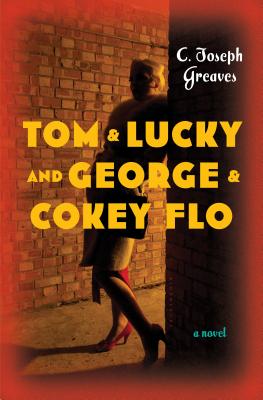 Tom & Lucky (and George & Cokey Flo) (Hardcover)
A Novel
Bloomsbury USA, 9781620407851, 448pp.
Publication Date: November 3, 2015
* Individual store prices may vary.
Description
The year is 1936. Charles "Lucky" Luciano is the most powerful gangster in America. Thomas E. Dewey is an ambitious young prosecutor hired to bring him down, and Cokey Flo Brown--grifter, heroin addict, and sometimes prostitute--is the witness who claims she can do it. Only a wily defense attorney named George Morton Levy stands between Lucky and a life behind bars, between Dewey and the New York governor's mansion.
As the Roaring Twenties give way to the austere reality of the Great Depression, four lives, each on its own incandescent trajectory, intersect in a New York courtroom, introducing America to the violent and darkly glamorous world of organized crime and leaving our culture, laws, and politics forever changed.
Based on a trove of newly discovered documents, Tom & Lucky (and George & Cokey Flo) tells the true story of a singular trial in American history: an epic clash between a crime-busting district attorney and an all-powerful mob boss who, in the crucible of a Manhattan courtroom, battle for the heart and soul of a dispirited nation. Blending elements of political thriller, courtroom drama, and hard-boiled pulp, author C. Joseph Greaves introduces readers to the likes of Al Capone, Dutch Schultz, Meyer Lansky, and Bugsy Siegel while taking readers behind the scenes of a corrupt criminal justice system in which sinners may be saints and heroes may prove to be the biggest villains of all.
About the Author
C. Joseph Greaves is a former L. A. trial lawyer now living in Colorado. His first novel, Hard Twisted, was a finalist for the Oklahoma Book Award in Fiction and was named Best Historical Novel in the SouthWest Writers' International Writing Contest, in which Greaves was also honored with the grand prize Storyteller Award. Writing as Chuck Greaves, he is a Shamus Award finalist for his Jack MacTaggart series of legal/detective mysteries.
Praise For Tom & Lucky (and George & Cokey Flo): A Novel…
"Greaves is a helluva good storyteller . . . [His novel] infuses popular history with the wild energy of a 1930s Warner Bros. crime movie." —Wall Street Journal
"A novel of mobsters, madams, and manipulative lawyers in 1930s New York . . . Greaves' impressive research illuminates many aspects of this long-ago legal spectacular. Yet he achieves his most telling effects with his imaginative renderings of the eponymous quartet." —Kirkus Reviews
"The book begins in 1914, taking readers through the trial and its immediate aftermath with the precision of a historical account and the sensitivity of character-driven fiction . . . Legal thriller and true crime readers alike will appreciate the results of Greaves's formidable efforts." —Library Journal