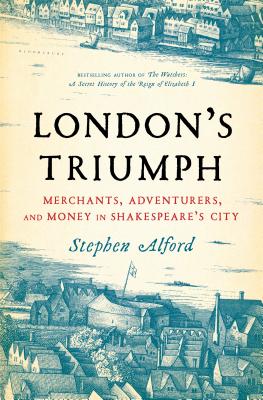 London's Triumph (Hardcover)
Merchants, Adventurers, and Money in Shakespeare's City
Bloomsbury USA, 9781620408216, 336pp.
Publication Date: December 5, 2017
Other Editions of This Title:
Compact Disc (8/13/2019)
* Individual store prices may vary.
Description
Los Angeles Times Book Prize Finalist

From historian Stephen Alford, author of The Watchers, the dramatic story of the dazzling growth of London in the sixteenth century.
For most, England in the sixteenth century was the era of the Tudors, from Henry VII and VIII to Elizabeth I. But as their dramas played out at court, England was being transformed economically by the astonishing discoveries of the New World and of direct sea routes to Asia. At the start of the century, England was hardly involved in the wider world and London remained a gloomy, introverted medieval city. But as the century progressed something extraordinary happened, which placed London at the center of the world stage forever.
Stephen Alford's evocative, original new book uses the same skills that made his widely-praised The Watchers so successful, bringing to life the network of merchants, visionaries, crooks, and sailors who changed London and England forever. In an explosion of energy, English ships were suddenly found all over the world--trading with Russia and the Levant, exploring Virginia and the Arctic, and fanning out across the Indian Ocean. The people who made this possible--the families, the guild members, the money-men who were willing to risk huge sums and sometimes their own lives in pursuit of the rare, exotic, and desirable--are as interesting as any of those at court. Their ambitions fueled a new view of the world--initiating a long era of trade and empire, the consequences of which still resonate today.
About the Author
Stephen Alford is the author of the highly acclaimed The Watchers: A Secret History of the Reign of Elizabeth and a fellow of the Royal Historical Society. He taught for fifteen years at Cambridge University, where he was a senior lecturer in the faculty of history and a fellow of King's College. He is now professor of early modern British history at the University of Leeds.
Praise For London's Triumph: Merchants, Adventurers, and Money in Shakespeare's City…
"[A] nuanced portrait . . . Alford, an archival sleuth, presents a view of history through coins, architecture, jewelry, engravings and portraits . . . It is to [his] immense credit that he has composed a captivating biography of London as it grew from second-tier status to its renaissance." - Wall Street Journal
"In this fascinating history of Tudor London, Alford helps readers to recognize the most significant of this burgeoning municipality's stones and men and to tease out the globe-shaping meaning of its dynamic buzz…Renaissance urban life unfolds as stirring drama." - Booklist, starred
"Alford makes expert use of individual lives to bring London's various stages to life…These and many other stories bring the past to life in warmly human terms, as do Alford's evocative descriptions of the city's changing landscape and architecture…Solid scholarly history written with an accessible verve that will appeal to general readers." - Kirkus Reviews
"Alford eloquently shows how Renaissance merchants and global exploration allowed London to come of age, transforming from a city subordinate to other European hubs into an ambitious player with financial might. It's a vibrant depiction of London's rising merchant class during the Tudor era." - Publishers Weekly
"The secret agents who labored to prove Mary's guilt and bring about her execution are the stars of this meticulous chronicle . . . Elizabeth's spies routinely used the rack for interrogations; torture was then, as now, justified as a means of protecting 'the security of the state.' " - The New Yorker on THE WATCHERS
"Alford, a fellow in history at Cambridge University, has delved deeply into 16th-century archives to unearth a history of the dark underside to the Elizabethan golden age--a page-turning tale of assassination plots, torture, and espionage." - Starred review, Publishers Weekly on THE WATCHERS
"Alford populates this engaging study of Elizabethan espionage with a cast of colorful characters and exposes the dark underbelly of a period that is often better known for Shakespeare and the triumph against the Spanish Armada. Secret correspondence, infiltration into the ranks of exile English Catholics in Rome and the betrayal of double agents are some of the thrilling elements that comprise this little-known tale." - Shelf Awareness on THE WATCHERS
"It provides a genuine--and compelling--reappraisal of one of the most studied periods in English history: the reign of Elizabeth I. In exploring the world (or underworld) of Elizabethan espionage, Alford takes us on a darker, more disturbing and arguably more fascinating journey through the Elizabethan era than any other historian of the period . . . [An] engaging and perfectly pitched narrative. . . . Alford weaves together the bewilderingly complex threads of plots and counterplots so skillfully that as a reader you are never left floundering." - BBC History Magazine (named a Pick of the Month) on THE WATCHERS