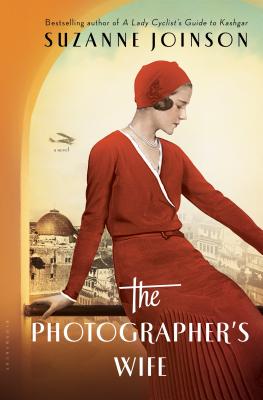 The Photographer's Wife (Hardcover)
Bloomsbury USA, 9781620408308, 352pp.
Publication Date: February 2, 2016
* Individual store prices may vary.
Description
In 1920s Jerusalem, eleven-year-old Prudence watches her architect father launch an ambitious (and crazy) plan to redesign the Holy City by importing English parks to the desert. He employs a British pilot, William Harrington, to take aerial photographs of the city, and soon Prue becomes uncomfortably aware of the attraction flaring between Harrington and Eleanora, the young English wife of a famous Jerusalem photographer. Palestine has been a surprisingly harmonious mix of British colonials, exiled Armenians, and Greek, Arab, and Jewish officials rubbing elbows, but there are simmers of trouble ahead. When Harrington learns that Eleanora's husband is part of an underground group intent on removing the British, a dangerous game begins.
Years later, in 1937, Prue is an artist living a reclusive life by the sea when Harrington pays her a surprise visit. What he reveals unravels her world, and she must follow the threads that lead her back to secrets long-ago buried in Jerusalem.
The Photographer's Wife is a powerful story of betrayal: between father and daughter, between husband and wife, and between nations and people, set in the complex period between the two world wars.
About the Author
Suzanne Joinson works in the literature department of the British Council, and regularly travels widely across the Middle East, North Africa, China and Europe. In 2007 she won the New Writing Ventures Award for Creative Non-Fiction for 'Laila Ahmed'. She is studying for a PhD in Creative Writing at Goldsmiths, University of London, and lives by the sea on the South Coast of England.
www.suzannejoinson.com
@suzyjoinson
Praise For The Photographer's Wife…
"Sheer beauty stalks the empty spaces of this stubborn, lyrical novel." - Editor's Choice, New York Times Book Review
"Atmospheric, romantic, yet refreshingly acerbic--Joinson's timely portrayal of the difficult relationships between different cultures is rivaled by her heartbreaking delineation of the fragile relationships between individuals." - starred review, Kirkus Reviews
"This is historical fiction at its most pleasurable." - Library Journal
"An intriguing father-daughter story, with an Atonement-esque exploration of the differences between child and adult understanding." - BookPage
"A riveting story about betrayal and love, and all that lies between when the world was at a resting place and there did not seem to be any end to the wonders of it all. As Prue discovers, the underbelly of all that beauty had something rotten to bear. And, like all good secrets, they completely transform the perspectives of both the characters and readers as the story drives towards its impactful conclusion." - BookReporter
"Suzanne Joinson has skillfully written another terrifically entertaining novel with The Photographer's Wife. A deftly crafted and engaging read from beginning to end." - Midwest Book Review
"Joinson masterfully employs sub-plot and subtle detail to take the reader smoothly from character to character, decade to decade, and place to place. The reader, confident in the hands of a true storyteller, is free to settle in and be swept away." - Historical Novel Society
"A sizzling 1920s-set tale of love and betrayal." - Heat (Our Top 5 Section)
"Joinson's Atonement-esque second novel . . . creates a lingering sense of horror and trauma." - Sunday Telegraph