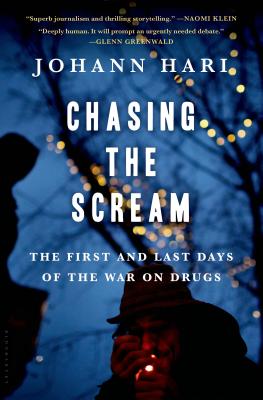 Chasing the Scream
The Opposite of Addiction is Connection
Hardcover

* Individual store prices may vary.
Description
The New York Times Bestseller
The Book Behind the Viral TED Talk

For the first time, the startling full story of the disastrous war on drugs--propelled by moving human stories, revolutionary insight into addiction, and fearless international reporting.

What if everything you think you know about addiction is wrong? One of Johann Hari's earliest memories is of trying to wake up one of his relatives and not be able to. As he grew older, he realized he had addiction in his family. Confused, unable to know what to do, he set out on a three-year, 30,000-mile journey to discover what really causes addiction--and what really solves it.

He uncovered a range of remarkable human stories--of how the war on drugs began with Billie Holiday, the great jazz singer, being stalked and killed by a racist policeman; of the scientist who discovered the surprising key to addiction; and of the countries that ended their war on drugs--with extraordinary results.

His discoveries led him to give a TED talk and animation which have now been viewed more than 25 million times. This is the story of a life-changing journey that showed the world the opposite of addiction is connection.
Praise For Chasing the Scream: The Opposite of Addiction is Connection…
"Superb journalism and thrilling story-telling." - Naomi Klein

"An absolutely stunning book. It will blow people away." - Elton John

"A terrific book." - Bill Maher

"A wonderful book . . . I hope everyone will read it." - Sam Harris

"Wonderful. I couldn't put it down." - Noam Chomsky

"Amazing and bracing and smart. It's really revolutionary." - Dan Savage

"One of the world's most important and most enlightening thinkers and social critics." - Glenn Greenwald, winner of the Pulitzer Prize

"Incredibly insightful and provocative." - B.J. Novak, writer for THE OFFICE

"A testament to Hari's skill as a writer." - The New York Times
Bloomsbury USA, 9781620408902, 400pp.
Publication Date: January 20, 2015
About the Author
Johann Hari is the author of Lost Connections. He was twice named Newspaper Journalist of the Year by Amnesty International UK. He has written for the New York Times, the Los Angeles Times, and others, and he is a regular panelist on HBO's Real Time with Bill Maher. His TED talk, "Everything You Think You Know About Addiction Is Wrong," and the animation based on it have more than twenty million views. Hari lives in London.