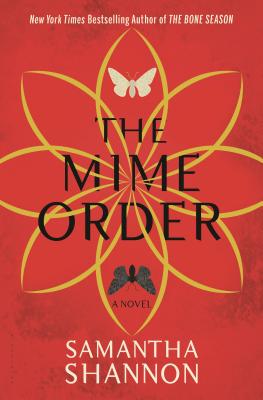 The Mime Order (Hardcover)
The Bone Season
Bloomsbury USA, 9781620408933, 528pp.
Publication Date: January 27, 2015
Other Editions of This Title:
Paperback (2/7/2017)
Paperback (1/26/2016)
Hardcover, Large Print (2/25/2015)
MP3 CD (2/7/2017)
Compact Disc (1/26/2016)
MP3 CD (4/21/2015)
* Individual store prices may vary.
Description
In the New York Times bestselling second novel in the epic Bone Season series, Paige Mahoney may have broken out of prison, but neither the government nor her prison guards are going to let her escape so easily.
It is a dark time for clairvoyants in London. Scion, the ruling government, is in league with the Rephaim, an extraordinarily powerful, otherworldly race that intends to make humans its slaves.
Paige Mahoney may have succeeded in leading a mass break-out from the brutal camp, Sheol I, where she and other clairvoyants were systematically imprisoned, but she hasn't truly escaped. As Scion turns its all-seeing eye on page, and the ruthless leader of the Rephaim sets out in pursuit, Paige must find safety in a London underworld and a clairvoyant community that is beginning to crumble.
About the Author
Samantha Shannon was born in West London in 1991. She started writing at the age of fifteen and studied English language and literature at St. Anne's College, Oxford. The Bone Season, the first novel in her seven-book series, was a TODAY Book Club pick and rights were sold in twenty-eight countries.
Follow Samantha on Twitter: @say_shannon; and on her blog: www.samantha-shannon.blogspot.com
Praise For The Mime Order: The Bone Season…
"An intoxicating urban-fantasy series . . . Shannon's haunting dystopian universe is rich in detail, consistent, suffused with familiar afternotes . . . Like Paige Mahoney, Shannon now has proven staying power. Her fans will be calling for more." —NPR.org
"A gripping sequel." —US Weekly
"While Bone Season was filled with action and exposition . . . betrayal and political intrigue take over in the excellent Mime Order . . . With the Unnatural Assembly and its colorful gangsters, Shannon goes full Scorsese . . . Tussling with poltergeists, showing her heroic mettle and even playing homicide detective, Paige makes great strides as a memorable character, and so does her author. If anyone was wondering how Shannon would stretch this story into seven books, the gut punch of the last line in The Mime Order will instead have them on tenterhooks for the next five." —USA Today
"Shannon creates vividly dilapidated, macabre, and mysterious worlds both urban and within the dreamscapes Paige valiantly enters. The motley, elaborately costumed characters are compelling; the nonstop, often eerie action is riveting. And the story reverberates with echoes of the slave trade, industrial servitude, and classic gangster drama, all intensified by keenly imagined otherworldly combat. A Clockwork Orange meets A Tale of Two Cities meets Harry Potter in this clever, caring, and spellbinding tale, which promises more to come . . . as Shannon's exceptional fantasy saga continues." —Booklist, starred review
"Full of the action, turns, and surprising revelations that readers have come to expect from Shannon, this new installment ends on a wholly unexpected twist." —Library Journal
"Shannon's world-building is original and intriguing, especially the complex, almost mythic voyant underground." —Publishers Weekly
"Her legion of fans will once again be here for the propulsive plot." —Kirkus Reviews
"With a unique plot, impeccable world-building and important character connections, The Mime Order outshines its predecessor and becomes an intelligent, adventurous read." —Deseret News
"[The Mime Order] boasts all of the suspense, intrigue and mystery of the first volume as well as an addictive storyline that will leave readers clamoring for the next chapters in Paige's ever-intensifying life . . . This deft effort to build on the complex world she constructed in the first installment will solidify the series' rightful place among the best of fantasy, sci-fi and dystopian fiction." —Shelf Awareness