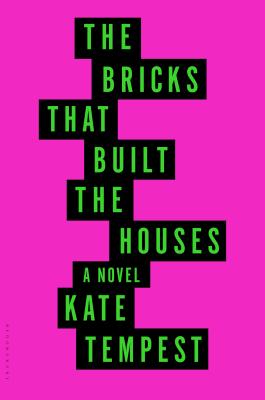 The Bricks that Built the Houses
Hardcover

* Individual store prices may vary.
Other Editions of This Title:
Paperback (2/14/2017)
Description
Becky, Harry, and Leon are leaving London in a fourth-hand Ford with a suitcase full of stolen money, in a mess of tangled loyalties and impulses. But can they truly leave the city that's in their bones?
Kate Tempest's novel reaches back through time--through tensely quiet dining rooms and crassly loud clubs--to the first time Becky and Harry meet. It sprawls through their lives and those they touch--of their families and friends and faces on the street--revealing intimacies and the moments that make them. And it captures the contemporary struggle of urban life, of young people seeking jobs or juggling jobs, harboring ambitions and making compromises.
The Bricks that Built the Houses is an unexpected love story. It's about being young, but being part of something old. It's about how we become ourselves, and how we effect our futures. Rich in character and restless in perspective, driven by ethics and empathy, it asks--and seeks to answer--how best to live with and love one another.
Kate Tempest, a major talent in the poetry and music worlds, sits poised to become a major novelist as well.
Praise For The Bricks that Built the Houses…
"[The Bricks that Built the Houses] marks the arrival of a significant new voice . . . deeply affecting: cinematic in scope; touching in its emphatic humanity . . . Tempest's voice--by turns raging and tender--never falters. By the time the novel reaches its cleareyed climax, cleverly undercutting its own promised happy ending, the reader is left with the impression of a work that hums with human life." - New York Times Book Review, Editors' Choice
"A novel that perfectly captures the modern trials and tribulations of youth and urban life in London." - BuzzFeed
"Tempest has a knack for the devastating throwaway line--a skill-honed, no doubt, from years of rapping and spoken-word performances. Her work is rich with underlinable lines . . . Captivating." - New Yorker
"[Tempest is] a Zadie Smith if Smith were in her 20s again . . . An artistic prodigy . . . [Her] captivating The Bricks That Built the Houses is rich in detail, clever in plot and filled with characters who live on the edge but never quite give up." - Shelf Awareness
"With a scope that rivals Jeffrey Eugenides' Middlesex, Tempest juggles themes of family, history, and womanhood." - Booklist
"This is a bold, bright, beguiling novel; a lustrous pageant that dazzles and grips . . . [Tempest] may well be unstoppable." - Sunday Telegraph
"Blake, Shakespeare, Eliot, the Wu-Tang Clan: when an artist's outlook on boundaries is so dizzyingly open, you long to know what happens next." - The Guardian
"Tempest is brilliant at capturing a distinctly contemporary state of mind . . . Her writing has a startling, unmediated freshness." - Metro
"[This] fast-paced, filmic narrative brims with energy." - Vogue UK
"It's hard not to be blown away by Kate Tempest . . . A stirring, post-Dickensian lens trained on London's lonely underbelly." - Evening Standard
"She has that vanishingly rare combination of heavyweight literary credentials and, having started out as a spoken-word artist on the hip-hop scene, a deep understanding of [London] at street level. Both of these aspects of her writing shine through in The Bricks That Built the Houses, which is as lyrical as it is gritty." - New Statesman
"Tempest is a worthy champion for a generation of disillusioned youth." - Sunday Times
"Explosive . . . It fairly flies off the page." - Observer
"Remarkable not only for its timely commentary on the financial difficulties faced by many millennials, but for its meticulous examination of parents' inability to understand their children's struggles . . . The Bricks That Built the Houses creates a complex narrative that rarely falters and eventually coheres into a strong and lyrical whole." - The Millions
"Uncontainable . . . In her restless, relentless creativity, this unique talent hops freely from one art form to another . . . Tempest has proved you can have intergenerational appeal and still be cool, and that you can stretch your creative wings and not settle in one place. Long may she continue." - Lyn Gardner, Guardian
"When Tempest's angst-ridden lyricism is let off the leash, the effect is thrilling . . . Her lonely protagonists . . . come to seem both painfully particular and impressively archetypal . . . Pinpoint evocation of a milieu, its texture and contours, all delivered with an intensely gathered and focused energy." - Alex Clark, Guardian
Bloomsbury USA, 9781620409015, 416pp.
Publication Date: May 3, 2016
About the Author
Kate Tempest grew up in south-east London, where she still lives. Her first poetry collection Everything Speaks in its Own Way was released on her own Zingaro imprint. Her epic poem, Brand New Ancients – a modern-day myth set in south London – won the Ted Hughes Prize in 2013, making her the first-ever recipient under 40. Her extensive international tour of Brand New Ancients sold out everywhere and gained a five star review in the New York Times. Her plays include GlassHouse, Wasted and Hopelessly Devoted. She released an album, Balance, with Sound of Rum in 2011 and her debut solo album, Everybody Down, a narrative-led hip hop record based on The Bricks That Built The Houses, was released on Big Dada records in 2014 to wide critical acclaim. Kate Tempest's second poetry collection, Hold Your Own, will be published in October 2014.
Coverage from NPR