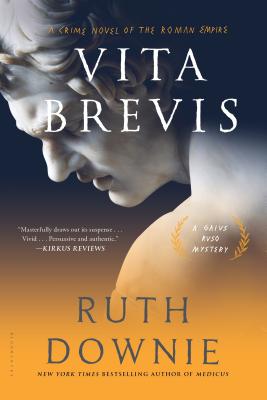 Vita Brevis (Paperback)
A Crime Novel of the Roman Empire (The Medicus Series #7)
Bloomsbury USA, 9781620409602, 384pp.
Publication Date: July 11, 2017
* Individual store prices may vary.
Description
"The seventh adventure for Downie's physician hero masterfully draws out its suspense, painting a vivid portrait of ancient Rome that feels persuasive and authentic." -Kirkus Reviews
Ruso and Tilla and their new baby daughter have left Roman-occupied Britain--and the military--for Rome at the urging of Ruso's patron, Accius. Their excitement upon arriving is soon dulled by the discovery that the grand facades of polished marble mask an underworld of corrupt landlords and vermin-infested tenements. There are also far too many doctors--some skilled, but others positively dangerous.
Ruso thinks he has been offered a reputable medical practice only to find that his predecessor, Doctor Kleitos, has fled, leaving a dead man in a barrel on the doorstep and the warning, "Be careful who you trust." Distracted by the body and his efforts to help Accius win the hand of a rich young heiress, Ruso makes a grave mistake, causing him to question both his competence and his integrity.
With Ruso's reputation under threat, he and Tilla must protect their small family from Doctor Kleitos's debt collectors and find allies in their new home while they track down the vanished doctor and find out the truth about the unfortunate man in the barrel.
About the Author
In 2004, Ruth Downie won the Fay Weldon section of BBC3's End of Story competition; Medicus is her first novel. She is married with two sons and lives in Milton Keynes, England.
Praise For Vita Brevis: A Crime Novel of the Roman Empire (The Medicus Series #7)…
"Downie writes with her usual humor and depth . . . Perfect for fans of the Falco novels by Lindsey Davis, this entertaining New York Times best-selling series and its endearing characters deserve as long a run." - Booklist
"The seventh adventure for Downie's physician hero (Tabula Rasa, 2014, etc.) masterfully draws out its suspense, painting a vivid portrait of ancient Rome that feels persuasive and authentic." - Kirkus Reviews
"Downie's plotting is as engaging as ever, as she weaves the threads of a murder mystery into the very character-driven story of Ruso and Tilla. While marital strife under the pressures of a new home and a new baby in the household could have proven tedious, these two characters and their relationship are so charmingly portrayed that every domestic scene seems of a piece. The tension between Tilla's rebellious nature and the ideal of a 'Good Roman Wife,' and the tension between Ruso's outer gruffness and inner integrity make this Medicus installment much more than a mystery novel." - Historical Novel Society
"Ruth Downie's books about second-century AD Roman Army doctor Ruso and his British wife Tilla, herself a healer and midwife, are among my favourite of all historical crime series. There is a confident, unforced authenticity to the writing which makes the reader feel like a time traveller." - Mat Coward, Morning Star (UK)
"Since Lindsey Davis first began her Falco series, a number of authors have attempted to infiltrate the ancient Roman mystery subgenre . . . but only Ruth Downie has managed it with her own distinctive panache." - History Buff
"Vita Brevis is crammed with pithy characterisation (notably the intuitive Ruso), mordant humour and beautifully integrated historical detail." - Financial Times
"A deftly crafted and consistently compelling read from beginning to end, Vita Brevis clearly establishes author Ruth Downie as a consummate and accomplished master of historical crime fiction . . . Very highly recommended." - Midwest Book Review
"A Ruth Downie novel offers many pleasures, not least of them the humorously conflicted marriage between Roman citizen Ruso and the Briton Tilla . . . but where Vita Brevis really scores is in its contemporary resonances with Ruso and Tilla's immigrant experience . . . Meticulously researched, the Ruso novels are historical mysteries to rank alongside those of Lindsey Davis." - Irish Times