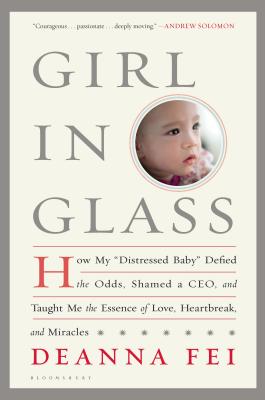 Girl in Glass
How My "Distressed Baby" Defied the Odds, Shamed a CEO, and Taught Me the Essence of Love, Heartbreak, and Miracles
Hardcover

* Individual store prices may vary.
Description
Deanna Fei was just five-and-a-half months pregnant when she inexplicably went into labor. Minutes later, she met her tiny baby who clung to life support inside a glass box. Fei was forced to confront terrifying issues: How to be the mother of a child she could lose at any moment. Whether her daughter would survive another day--and whether she should. But as she watched her daughter fight for her life, Fei discovered the power of the mother-child bond at its most elemental.
A year after she brought her daughter home from the hospital, the CEO of AOL--her husband's employer--set off a national firestorm about the children he had called "distressed babies." By blaming the beautiful, miraculously healthy little girl for a cut in employee benefits, he attached a price tag to her life.
Girl in Glass is the riveting story of one child's harrowing journey and a powerful distillation of parenthood. With incandescent prose and an unflinching eye, Fei explores the value of a human life: from the spreadsheets wielded by cost-cutting executives to the insidious notions of risk surrounding modern pregnancy; from the wondrous history of medical innovation in the care of premature infants to contemporary analyses of what their lives are worth; and finally, to the depths of her own struggle to make sense of her daughter's arrival in the world. Above all, Girl in Glass is a luminous testament to how love takes hold when a birth defies our fundamental beliefs about how life is supposed to begin.
Praise For Girl in Glass: How My "Distressed Baby" Defied the Odds, Shamed a CEO, and Taught Me the Essence of Love, Heartbreak, and Miracles…
"The author has spun a profound work of philosophy and sewn it into the shell of an exquisite memoir." —Jennifer Senior, The New York Times
"In this courageous and passionate book, Deanna Fei tells the story of delivering a medically fragile child at 25 weeks. Even those who know the outcome will be gripped by the novelistic depiction of oscillating hope and despair. But the real accomplishment of this book is that it takes memoir as a jumping-off point for pondering the obligations attached to scientific progress and collective wealth. In addressing the issue of how much a human life is ultimately worth, it becomes a deeply moving work of moral philosophy." —Andrew Solomon, NEW YORK TIMES bestselling author of FAR FROM THE TREE
"Deanna Fei has written three gripping tales in one--her transcendent journey as the mother of a child born way too soon; her plunge into the harsh realities of corporate greed and bumbling when a certain CEO publicly labeled her daughter a 'distressed baby'; and her hard-won understanding of what society owes its most fragile beings. Readers will fall in love with Fei's daughter, and come to see that she is all of our children." —Lisa Belkin, author of LIFE'S WORK and former columnist for the NEW YORK TIMES's Motherlode blog
"Luminous . . . An unflinching testament to the improbable miraculousness of life. This is an astonishing book, full of dark beauty and grace and a hard-earned integrity, one that will haunt me for a long time." —Thrity Umrigar, bestselling author of THE SPACE BETWEEN US and THE STORY HOUR
"Fei grippingly details her dread, anxiety, and wonder with her second-trimester delivery . . . An urgent call for corporate compassion by a woman with a baby in peril." —Kirkus Reviews
"Extraordinarily beautiful." —NPR, All Things Considered
"Impassioned, important . . . effective, and affecting . . . [Fei] is an eloquent stylist who writes with immediacy and honesty." —The Washington Post
"Raw, unflinching, and beautifully written." —Good Housekeeping
"A heartbreaking yet beautiful story of motherhood and love . . . Fei is a gifted writer with a courageous tale to share. This memorable book belongs on the shelf of every library." —starred review, Library Journal
"[Fei] writes with precision, grace, and a devastating honesty." —The Boston Globe
"This memoir is so starkly, poignantly written, so smart and wrenching, and I just had a truly visceral response to both the story and to Fei's fierce, plain mother love throughout." —(Year in Reading 2015), The Millions
"Everyone must read this book." —Melissa Harris-Perry, MSNBC
"Honest and clear-eyed . . . Mesmerizing." —Yahoo! Parenting
"Somehow finding immense bravery amid her turbulent experience, Fei has written a memoir, Girl in Glass . . . She's able to construct a scene with just a few details and go straight to its emotional heart. Her writing immerses readers through intimate vignettes: the first time she was able to embrace her daughter; the daughter's first feedings achieved painstakingly for months; her daughter's first unassisted breaths . . . It's amazing how she's able to ask so many of the hard questions . . . about the value of one fragile human life. Anyone who recognizes or questions the idea that human life has a price tag will want to read this book." —Tamiko Nimura, Hyphen Magazine
"Dramatic . . . Argue[s] eloquently against corporate greed and the bottom line of profit and loss." —The Catholic Reporter
"One of 2015's most moving and important books." —Largehearted Boy
Bloomsbury USA, 9781620409916, 320pp.
Publication Date: July 14, 2015
About the Author
Deanna Fei is the author of the award-winning novel A Thread of Sky. A graduate of the Iowa Writers' Workshop, Fei has received a Fulbright Grant and a New York Foundation for the Arts fellowship. Her essays have appeared in the New York Times, Slate, Huffington Post, and other publications. She lives in Brooklyn with her husband and two children.
Coverage from NPR
or
Not Currently Available for Direct Purchase