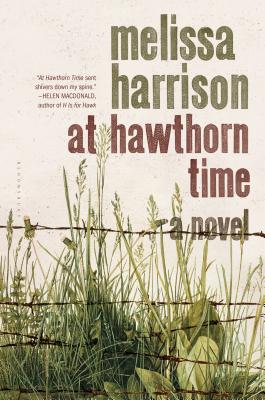 At Hawthorn Time
Hardcover

* Individual store prices may vary.
Description
It is dawn on a May morning. On a long straight road between two sleeping fields a car slows as it arrives at the scene of an accident.
Howard and Kitty have been married for thirty years and now sleep in different rooms. They do not discuss it. It was always Kitty's dream to move from their corner of north London into the countryside, and when the kids were gone they moved to the village of Lodeshill. Howard often wonders if anyone who lives in this place has a reason to be there.
Jack was once a rural rebel, a protestor who only ever wanted the freedom to walk alone in his own country. Having finished another stint in prison for trespassing, he sets off once more, walking north with his old battered backpack.
Jamie is a nineteen-year-old Lodeshill boy who works in a distribution center and has a Saturday job at the bakery. He spent his childhood exploring the land with his grandfather and playing with Alex who lived in the farmhouse next-door.
As the lives of these people overlap, we realize that mysterious layers of history are not only buried within them, but also locked into the landscape. A captivating novel, At Hawthorn Time is about identity, consumerism, changing boundaries and our own long, straight path into the unknown.
Praise For At Hawthorn Time…
"A magical, hypnotically strange book of love and dreams, tragedy and myth, At Hawthorn Time sent shivers down my spine. Soaked deep in hedgerows and fields, it is a profoundly unsentimental yet deeply compassionate meditation on searching for myth and meaning, on our need to belong, and the place of history in the history of place. Harrison is writing us a new kind of modern pastoral: peopled, raw, messy, and shining." —Helen Macdonald, author of H IS FOR HAWK
"At Hawthorn Time is intensely moving, a book overshadowed by disaster but still careful, precise, and hypnotically beautiful." —Evie Wyld, author of ALL THE BIRDS, SINGING
"This elegant novel's true subject is its evolving pastoral setting." —Kirkus Reviews
"Splendid, closely observed . . . acute, effortless . . . [Harrison's] growing audience must hope to live long enough to read everything she writes." —The Spectator (UK)
"Harrison's love of the natural world and its traditions vibrates poetically through every page . . . [Her] imagination is wonderfully strange, her writing beautifully assured and controlled. At Hawthorn Time is social satire, but also a political protest against the intensive and increasing privatisation of the countryside, and a love letter to the power of nature." —The Times (UK)
"The novel is as much a hymn to the ancient life-force of nature as it is a reminder of the underlying fragility of our busy modern world." —Independent on Sunday (UK)
"If Robert Macfarlane and Helen Macdonald were to co-author a book with John Burnside and Adam Foulds, it might end up something like At Hawthorn Time." —Financial Times
"At Hawthorn Time shows off a bracing talent in the tradition of Thomas Hardy, JL Carr and Henry Williamson." —Daily Telegraph (UK)
"Bracing and arresting." —The Sunday Telegraph (UK)
"Thomas Hardy, were he around today, would no doubt approve: a determinedly contemporary pastoral tragedy, written with a keen sense of the natural world. Harrison has a lyrical turn of phrase." —The Daily Mail (UK)
"[Harrison's] level gaze, crisp prose and sharp insight make her a fresh and valuable voice in both fiction and nature writing." —The Guardian (UK)
"Our changing countryside--both the place and the people in it--is wonderfully explored." —Harper's Bazaar
"In part an elegy for our dwindling connection with nature . . . Harrison strips away our idealized pastoral vision to unveil the real countryside, lamenting its many losses yet also encouraging us to discover and celebrate the beauty that remains." —Times Literary Supplement
"Brings to the forefront the extremely personal and private ways that we can live as individuals while simultaneously highlighting the impermanence of that individualism. Combined with graceful and delicate language about nature and the English countryside--which could in many ways be called a fifth, unnamed and ever-present character in the novel--At Hawthorn Time is a quiet meditation on the unexpected beauty of both the individual and the community, and the changing landscape in which the two exist." —ShelfAwareness
"This is an account of rural life, but a realistic one, a novel of our modern countryside of incomers and misfits, with a terrific ending, built into the start, which snaps shut like a gin trap at the finish. A gripping story which lingers in the mind." —The Independent
Bloomsbury USA, 9781620409947, 288pp.
Publication Date: July 7, 2015
About the Author
Melissa Harrison's debut novel Clay won the Portsmouth First Fiction Award, was selected for Amazon's 'Rising Stars' programme and chosen by Ali Smith as a Book of the Year for 2013. A freelance writer, occasional photographer and columnist for The Times, the Weekend FT and the Guardian, she lives in South London.
@M_Z_Harrison
or
Not Currently Available for Direct Purchase