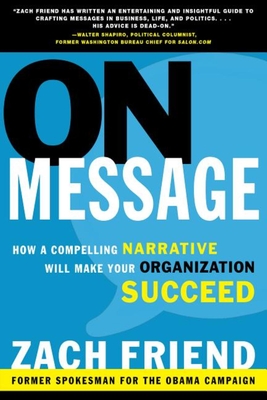 On Message (Paperback)
How a Compelling Narrative Will Make Your Organization Succeed
Turner, 9781620453728, 176pp.
Publication Date: September 17, 2013
Other Editions of This Title:
Hardcover (9/17/2013)
Paperback (9/17/2013)
* Individual store prices may vary.
Description
In this era of information overload and real-time communication where anyone can publish and broadcast to millions of people with the click of a button, there is no shortage of people talking about the need to get their message across, or having a "narrative." But for business, marketing, and political campaigns, there is no definitive how-to on crafting a compelling narrative that achieves lasting results. And without a narrative, no amount of framing, complex messaging, or facts will succeed.
On Message solves that problem, illustrating how effective communicators understand the power of narrative, emotion, and simple messaging, and posits that having a personal, emotional narrative is the basis for all successful communication.
Drawing on Zach Friend's own experience and insights from politics, advertising, corporate communications, entertainment, and social psychology, On Message provides a simple process for applying the powerful principles behind crafting a narrative, ultimately paving the path to success. Specifically, readers will:
-Learn how to focus their communication efforts in a dramatically more powerful way on the most important factor, narrative;
-Master the mindset needed to become a better communicator and make a forceful impact on their audience and clients;
-Stop wasting time and energy gathering unnecessary facts and data that don't advance their message; and
-Get results faster by using narrative as a productive tool that will fuel success.
About the Author
Zach Friend is a policy, public affairs, and communications expert who has worked for Barack Obama and John Kerry's presidential campaigns, the White House Council of Economic Advisers, the U.S. Senate and U.S. House of Representatives and the Democratic National Committee. With Obama for America '08, he was a press secretary and spokesman in the battleground state of Pennsylvania. He's been quoted by MSNBC, Fox News, CNN, ABC, CBS, NPR, the "LA Times, "the" Boston Globe, "and" Politico" and is a blogger for the "Huffington Post "and" Business Insider."