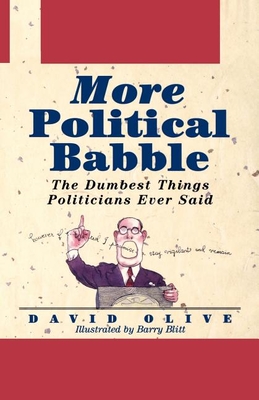 More Political Babble (Hardcover)
The Dumbest Things Politicians Ever Said
Wiley, 9781620457917, 258pp.
Publication Date: March 9, 1996
* Individual store prices may vary.
Description
An award-winning journalist and renowned political cartoonist present over 1,200 entries of the silly, stupid, offensive, arrogant, racist and just plain dumb things politicians have placed on public record. Modeled on its successful predecessor, this often unbelievable yet always entertaining book contains chapters on such juicy subjects as scandal, campaigns, consultants, foreign affairs and the media and prominent political personalities including Bill and Hillary Clinton, Newt Gingrich and Bob Dole.
About the Author
DAVID OLIVE is an award-winning journalist whose business articles and book reviews are published widely. Editor of the Globe and Mail's Report on Business magazine, he is the author of the bestsellers Business Babble, Political Babble, and Canadian Political Babble (all available from Wiley).BARRY BLITT is a political cartoonist and illustrator whose work appears regularly in The New York Times, Time, Newsweek, The New Yorker, Rolling Stone, Sports Illustrated, and other publications.