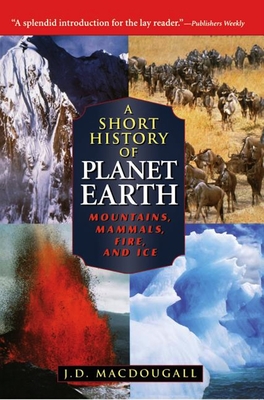 A Short History of Planet Earth (Hardcover)
Mountains, Mammals, Fire, and Ice (Wiley Popular Scienc)
Wiley, 9781620458037, 274pp.
Publication Date: April 28, 1998
* Individual store prices may vary.
Description
""A splendid introduction to geology and paleontology for the lay reader. To compress Earth's history into a single, lucidly written volume is a major achievement."" --Publishers Weekly, starred review""Few people have both the knowledge and the writing ability to capture such a long and varied history in a compelling manner. In A Short History of Planet Earth, J.D. Macdougal demonstrates that he is one of the few."" --EarthThis exhilarating survey of the four and half billion years of Earth's history charts both the geological and biological history of the planet. It moves from the origin of the earth's iron core to the formation of today's seven continents, and from the primordial building blocks of life to the evolution of the human form.

About the Author
J.D. MACDOUGALL (San Diego, California) is a professor of earth science at the Scripps Oceanographic Institute of the University of California, San Diego, the premier center for earth science research in the U.S. His work has appeared in Scientific American and the McGraw-Hill Encyclopedia of Science and Technology.