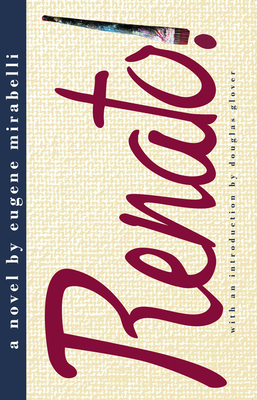 Renato!
Paperback

* Individual store prices may vary.
Description
In the course of a long and productive literary career, Eugene Mirabelli has written three sequential novels about the poignant and comical misadventures of an artist, Renato Stillamare, which have now been revised and assembled into a single work.

Renato! is remarkable equally for the dynamic fusion of its parts—a modernistic marriage of narrative forms—and for a story set amidst the confusions of modern life and richly imbued with love, philosophy, hilarity, food, sex, religion, complicated familial attachments, and a dash of magical realism. Renato's somewhat outlandish first-person narrative runs from an unlikely origin story to rebellious maturity and finally to searing intimations of mortality. His personality is creative, noble, jealous, generous, foolish, compassionate, witty, profound, selfish, and wonderfully charismatic. His language is colloquial and at times profane; his painterly eye for detail is precise and revealing; his metaphors apt and often hilarious; his heart vulnerable, and his suffering all too real. Renato! is a testament to struggle, failure and, despite all, a passionate embrace of life and belief in love. As the novelist and critic Douglas Glover remarks in his introduction to Renato!, it is as though Mirabelli has reverse-engineered the novel as that wonderfully extravagant and particularly Italian form—opera.
Praise For Renato!…

"A blazing magnum opus"—Publishers Weekly



"Rivaling grand opera for passion and plot, Renato! is sure to delight readers who appreciate captivating storytelling."—Booklist, American Library Assn.



"Mirabelli . . .is a master of montage, sudden narrative breaks, interwoven plots and themes.…This truly is a wise and comforting book, funny and sad, wonderfully intelligent…"—from the introduction by Douglas Glover



"A bittersweet, beautiful story that…merits wide attention…[and] speaks wisely to life's truths."—Kirkus Reviews



"This multi-generational Italian-American saga is nothing short of spectacular!"—Literary Features Syndicate



"As I was reading Eugene Mirabelli's wonderful novel Renato!, which is a terrific way to begin the new year and possibly a new era ("the Biden era," I heard it called recently on TV), I was reminded of a quotation from Susan Sontag in her Paris Review interview (The Art of Fiction, Number 143): "A novel worth reading is an education of the heart. It enlarges your sense of human possibility, of what human nature is, of what happens in the world. It's a creator of inwardness." ​How beautifully that describes this trilogy, which is made up of three earlier novels — The Goddess in Love with a Horse, Renato, the Painter, and After Alba — and which, I hope, will bring Mirabelli, who was born in 1931, the wide readership he deserves."—Roberta Sillman, The Arts Fuse



"Age bends and fate twists this artist, but he carries on with his 'perishable art and human love'—the defatigable artist as his own work of art."—William Kennedy, author of The Albany Cycle



"For anyone who loves the work of James Salter or William Trevor, Eugene Mirabelli is another writer to treasure."—Elizabeth Hand, author of Generation Loss

McPherson, 9781620540428, 592pp.
Publication Date: October 23, 2020
About the Author
Eugene Mirabelli was born in Arlington, Massachusetts, and began writing and publishing while in college. Six of his nine novels (including those forming Renato!) create a mosaic about an Italian American family that stretches from nineteenth-century Sicily to modern day Boston.

He has received numerous awards, including a Rockefeller grant, and his many short stories, journalistic pieces, reviews and essays appear widely in magazines and anthologies, and are translated into Czech, French, Hebrew, Polish, Russian, and Sicilian. Occasionally he writes brief pieces on the arts, sciences, politics, economics at CriticalPages.com, More about his books is found at genemirabelli.com