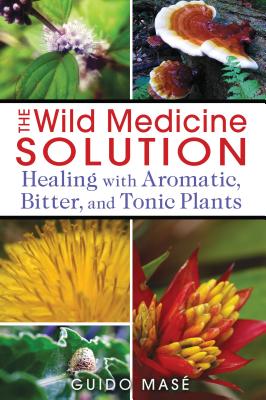 The Wild Medicine Solution
Healing with Aromatic, Bitter, and Tonic Plants
Paperback

* Individual store prices may vary.
Description
Restoring the use of wild plants in daily life for vibrant physical, mental, and spiritual health

• Explains how 3 classes of wild plants--aromatics, bitters, and tonics--are uniquely adapted to work with our physiology because we coevolved with them

• Provides simple recipes to easily integrate these plants into meals as well as formulas for teas, spirits, and tinctures

• Offers practical examples of plants in each of the 3 classes, from aromatic peppermint to bitter dandelion to tonic chocolate

As people moved into cities and suburbs and embraced modern medicine and industrialized food, they lost their connection to nature, in particular to the plants with which humanity coevolved. These plants are essential components of our physiologies--tangible reminders of cross-kingdom signaling--and key not only to vibrant physical health and prevention of illness but also to soothing and awakening the troubled spirit.

Blending traditional herbal medicine with history, mythology, clinical practice, and recent findings in physiology and biochemistry, herbalist Guido Masé explores the three classes of plants necessary for the healthy functioning of our bodies and minds--aromatics, bitters, and tonics. He explains how bitter plants ignite digestion, balance blood sugar, buffer toxicity, and improve metabolism; how tonic plants normalize the functions of our cells and nourish the immune system; and how aromatic plants relax tense organs, nerves, and muscles and stimulate sluggish systems, whether physical, mental, emotional, or spiritual. He reveals how wild plants regulate our heart variability rate and adjust the way DNA is read by our cells, controlling the self-destructive tendencies that lead to chronic inflammation or cancer.

Offering examples of ancient and modern uses of wild plants in each of the 3 classes--from aromatic peppermint to bitter dandelion to tonic chocolate--Masé provides easy recipes to integrate them into meals as seasonings and as central ingredients in soups, stocks, salads, and grain dishes as well as including formulas for teas, spirits, and tinctures. Providing a framework for safe and effective use as well as new insights to enrich the practice of advanced herbalists, he shows how healing "wild plant deficiency syndrome"--that is, adding wild plants back into our diets--is vital not only to our health but also to our spiritual development.
Praise For The Wild Medicine Solution: Healing with Aromatic, Bitter, and Tonic Plants…
"Guido has written a classic. What is most masterful about Guido's teachings and writing is the way he weaves folklore, tradition, and science flawlessly together, making a sensible, cohesive argument for the daily use of these common and important plants."

— Rosemary Gladstar, herbalist and founder of United Plant Savers and author of Rosemary Gladstar&rsqu

"An essential title for those interested in alternative medicine, especially for the additional information in the extensive notes and bibliography."
— Library Journal, August 2013

"A twenty-first-century herbal filled with the wisdom of authentic herbalism. Not only are vital skills of herbalism imparted in a friendly and grounded way, but the book is brimming with insights and wisdom from an herbalist who truly walks his talk."
— David Hoffmann, FNIMH, RH, medical herbalist and author of Medical Herbalism

"In The Wild Medicine Solution, Guido Masé presents a beautiful tapestry of writing that weaves together the colorfully rich tradition of herbal medicine around tonics and bitters, which are among the most important classes of botanicals for human health. Great information. A delightful read. The real solution to the health care crisis!"
— Roy Upton, RH, Doctor of Ayurvedic Medicine, executive director of the American Herbal Pharmacopoeia

"There are those who incorporate everyday plants into their diet, knowing this is herbal healing at its best. Guido Masé goes one step further. Here's the science that makes clear why direct plant medicine rocks. Tonics, bitters, and aromatics enliven our meals as well as stimulate our life force. Read this book and dare to be healthy!"
— Michael Phillips, author of The Holistic Orchard and The Apple Grower

"Whether you are an aging boomer looking for the best ways to stay healthy; a prepper worried about the end days; a sage femme guiding women toward wholeness during pregnancy, birth, and menopause; or a surgeon curious about integrative medicine, you will find ideas here that may overturn your current conceptions of health. This book is a short course on a deep matter, with plenty of practical, do-it-now examples to support your own health and engage in true preventive medicine. It is a gift of green blessings to us all."
— Susun S. Weed, author of Healing Wise and A Wise Woman Herbal

"Since ancient times we have been told that bitter and aromatic herbs can improve our health and well-being, but most Westerners avoid these beneficial herbs. Guido Masé, on the other hand, gives us convincing historical and scientific reasons for using them as well as simple recipes to help us enjoy them."
— David Winston, RH, author of Adaptogens: Herbs for Strength, Stamina, and Stress Relief

"In The Wild Medicine Solution herbalist Guido Masé elegantly weaves human history and biology with the history of herbal medicines, offering readers compelling reasons to reharmonize with nature and reintegrate herbs as medicines into their lives. A good read and a beautiful presentation."
— Aviva Jill Romm, M.D., herbalist, midwife, and author of Vaccinations and Natural Health after Birth

"If you have to deal with the stress and stressors of modern life, please read this. Accessible to non-science geeks and very appealing to those who like some soul served up with their science, this book is also a good one for skeptics who want scientific proof before they'll buy into the validity of using herbs."
— Vaguely Bohemian, April 2013

"A natural adjunct to the current real food movement, this book is a resource you'll want to return to again and again."
— Anna Jedrziewski, Inannaworks.com, May 2013

"The Wild Medicine Solution is a love letter to wild plants. From peppermint to dandelion root, Guido Masé writes with a fervent, irresistible intensity about the capacity of wild plants to restore humanity's physical, mental, and spiritual well-being."
— Alizah Salario, Spirituality and Health, May 2013

"In The Wild Medicine Solution: Healing with Aromatic, Bitter, and Tonic Plants, herbalist Guido Mase skips the laboratory-created supplement aisle and instead focuses deeply on how to use three plant categories for mind and body wellness...Mase adeptly explains how these special plants work in consistent and predictable ways to improve neuromuscular tone, aid digestive and metabolic activity, and even adjust our genetic expression, the way our cells read our DNA. Creating wild botanically based soups, salads, teas, spirits and tinctures make it easy to regularly include these plant categories into our lives."
— Gail Lord, Spirit of Change, June 2013

"Whether for everyday well-being or in dealing with dangerous diseases, plants offer natural options for improved health. The Wild Medicine Solution and Herbal Antivirals help put plant power in the reader's hands."
— Lisa James, Energy Times, July 2013
Healing Arts Press, 9781620550847, 328pp.
Publication Date: March 24, 2013
About the Author
Guido Masé is a clinical herbalist, herbal educator, and garden steward. The cofounder and codirector of the Vermont Center for Integrative Herbalism, he is a professional member of the American Herbalists Guild, the American Botanical Council, and United Plant Savers. He lives in South Burlington, Vermont.