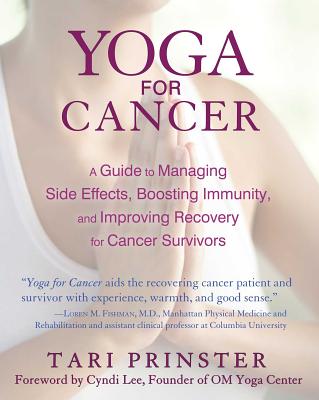 Yoga for Cancer
A Guide to Managing Side Effects, Boosting Immunity, and Improving Recovery for Cancer Survivors
Paperback

* Individual store prices may vary.
Description
Using yoga to manage the challenges of cancer and its treatment

• Explains how to create a safe home yoga practice that addresses the specific physical needs, risks, and emotions of cancer patients and survivors

• Includes 53 yoga poses and 9 practice sequences that use movement and breathing to reduce and manage treatment side effects

• Reveals how current research supports the physical and psychological benefits of yoga to aid recovery and reduce risk of recurrence

• Written by a cancer survivor and certified yoga teacher

For those faced with a cancer diagnosis and the journey of doctor-led surgery and treatments, yoga offers a way to regain control of your body and take an active part in your recovery and long-term health. In this easy-to-follow illustrated guide, yoga teacher and cancer survivor Tari Prinster presents 53 traditional yoga poses that are adapted for all levels of ability and cancer challenges. She then applies the movements and breathwork of these poses to address 10 common side effects and offers 9 practice sequences for varying stages of treatment and recovery.

Sharing her own story as well as those of cancer survivors and yoga teachers with whom she has worked, Prinster explores how yoga can be used to strengthen the immune system, rebuild bone density, avoid and manage lymphedema, decrease anxiety, detoxify the body, reduce pain, and help the body repair damage caused by the cancer and conventional treatments. She reveals the research that supports the physical and psychological benefits of yoga as an aid to recovery and in reducing the risk of recurrence. Explaining how yoga must be tailored to each survivor, Prinster gives you the tools to create a safe home yoga practice, one that addresses your abilities, energy level, and overall health goals.

Through personal stories, well-illustrated poses, and sample practices for beginners as well as experienced yoga practitioners, Prinster empowers survivors to create their own wellness plan in order to regain their independence and their physical and emotional well-being.
Praise For Yoga for Cancer: A Guide to Managing Side Effects, Boosting Immunity, and Improving Recovery for Cancer Survivors…
"Prinster, a breast cancer survivor and certified yoga teacher, presents an innovative plan to help readers diagnosed with cancer reap the benefits of yoga practice, from diagnosis through recovery. Admitting she was initially skeptical of yoga's "healing powers," Prinster takes readers through the scientific research, concluding that yoga can function as the "organ muscle" of the lymphatic system: helping with lymphatic drainage, venous return, bone building, relaxation, and immune function. Prinster also persuasively demonstrates how yoga can cleanse and strengthen the body, increase range of motion and flexibility, strengthen the spine, alleviate weight gain, and help patients deal with pain, fear, and anxiety. To meet the particular needs of cancer patients, the book presents 53 different poses, appropriate for different diagnoses or stages of treatment. Although Prinster notes the advantages of taking a group yoga class, this text will help readers build their own home practice (particularly useful for those who can't locate a survivor class or would like to supplement one). In clear, compassionate language, Prinster explains her methodology and eloquently argues for yoga as a "prescription for reclaiming life and as a wellness plan for moving on to long-term health."
— Publishers Weekly, November 2014

"A 'must read' for those contemplating yoga as a means to take charge of their lives after a diagnosis of cancer."
— JULIE A. ROSENBERG, M.D., RYT, pediatric oncologist and yoga instructor

"Yoga for Cancer is a look into Tari's simple yet groundbreaking work with survivors. Her practical guide helps cancer survivors create a safe and inspiring home yoga practice. Tari's gentle approach is complemented perfectly by her easy-to-follow guidance, making Yoga for Cancer an instrumental aspect of healing, surviving, and thriving after treatment."
— Elena Brower, coauthor of Art of Attention

"As a general oncologist, I wholeheartedly support Yoga for Cancer. Tari has successfully blended the ancient art of yoga with the contemporary art of oncology in a beautifully mindful but scientifically based manner."
— Julie J. Olin, M.D., Medical Oncology, Fletcher Allen Health Care, Vermont

"Yoga for Cancer is a yoga prescription for those touched by cancer. Tari offers support born of experience and tough love liberally sprinkled with compassion. As a writer and yoga teacher, I can say this book makes an important contribution to our collective knowledge of the healing powers of yoga."
— Linda Sparrowe, author of Yoga--A Yoga Journal Book

"Yoga for Cancer is a must read for all those living with cancer, providing the essential yoga tools with which you can construct your own wellness plan. If you are living with cancer and have tried yoga before or need an invitation to start, please read this book."
— Kate McIntyre Clere, filmmaker for Yogawoman

"Yoga for Cancer is a wonderful read and full of essential information for those living with breast cancer."
— Linda and Bob Carey, founders of The Tutu Project

"Tari's empathy and knowledge of how the body works is a tremendous benefit to all who read Yoga for Cancer."
— Mio Fredland, M.D., psychiatrist, New York Presbyterian University Hospital

"A wonderful aid for beginners like me."
— Susan Gubar, writer of the Living with Cancer blog for the New York Times

"Tari's passion to assist cancer survivors is outstanding. Her practice is easy to follow and helps us get over the past and move more powerfully in the future. She provides mind and body empowerment."
— Donna Wilson, RN, MSN, RRT, Memorial Sloan Kettering Cancer Center

"Tari Prinster was my Yoda-in-a-tank-top. I began taking her yoga classes simply to get back the range of motion in my arm and chest muscles, but her class taught me much more. I left stronger, inside and out. She expresses the lessons of her classes now in this book, and I'm thrilled she'll get to touch so many more people."
— Shelley Lewis, cancer survivor and author of Five Lessons I Didn't Learn from Breast Cancer

"Yoga for Cancer is a fact-based guide to healing. Tari explains in clear language what to do and why to unlock the healing potential of yoga."
— Stephanie M. Shorter, Ph.D., RYT, neuroscientist and founder of Mind-Body Collective

"While I was going through cancer treatments a few years ago, Tari's classes really helped me focus on something else besides being sick. The techniques and wisdom in Yoga for Cancer are almost as good as having Tari right there with you."
— Jake Burton, founder and chairman of Burton Snowboards

"This book is a terrific guide for survivors to do a daily practice. Its goal is to make this method of yoga for cancer a beacon for every survivor in the form of a book. Tari did a wonderful job creating this step-by-step method, and survivors everywhere will benefit."
— Paulette Sherman, Psy.D., psychologist and author of The Cancer Path

"As a cancer survivor myself, I found Tari's information on how to detoxify our body to be invaluable to my recovery. Yoga for Cancer is a useful tool for helping cancer survivors to reclaim their lives."
— Kathleen McBeth, clinical psychologist at the Cancer Patient Support Program

"An important addition to the growing collection of helpful resources for cancer survivors and yoga teachers is cancer survivor and yoga teacher Tari Prinster's recently released book, Yoga for Cancer: A Guide to Managing Side Effects, Boosting Immunity, and Improving Recovery for Cancer Survivors."
— Baxter Bell, M.D., RYT

"Yoga for Cancer aids the recovering cancer patient and survivor with experience, warmth, and good sense."
— Loren M. Fishman, M.D., Manhattan Physical Medicine and Rehabilitation

"This is straight talk from someone who knows. In Yoga for Cancer, Ms. Prinster effectively demonstrates why and how to use yoga to cope with cancer and cancer treatments, to lessen treatment side effects, and to enrich patients' lives as they regain and maintain their health.Yoga for Cancer sets out to help people live longer, healthier and happier lives. Writing it is a loving act of kindness by Ms. Prinster. This book is highly recommended for cancer patients and survivors, caregivers, and yoga instructors."
— New York Journal of Books, Birgit Patty, December 2014

"Tari Prinster's Yoga for Cancer is written as a guide for cancer patients and survivors, but the book is a wonderful introduction to the healing powers of yoga for anyone. …A road map for creating a home yoga practice to support physical and emotional well-being."
— Her Magazine, January 2015

"Prinster's text hits the mark. A deep knowledge of cancer's effects (and side effects) allows her to present the roles of both patient and practitioner with confidence. Prinster's own words and the testimonials of survivors/students weave together personal narratives and proven principles of medicine. Yoga for Cancer is a fully integrative book that works on every level to both motivate and soothe. It deserves to be in the hands of cancer patients everywhere. What are you waiting for? Go and tell a friend!"
— Alive Magazine, Helene Meurer, April 2015
Healing Arts Press, 9781620552728, 324pp.
Publication Date: November 24, 2014
About the Author
Tari Prinster is a certified yoga teacher, founder of yoga4cancer, former director of Women's Cancer Survivor Program at Om Yoga, New York City, yoga ambassador for the Living Beauty Foundation, and a breast cancer survivor. Her work has been featured in the documentary YogaWoman and in Yoga Journal. She has presented at conferences held by Yoga Journal, Yoga Service Council, and International Alliance of Yoga Therapists and has published articles in many yoga publications. She lives in New York City and Vermont.

Cyndi Lee is the founder of OM yoga.