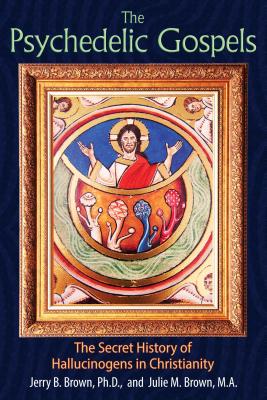 The Psychedelic Gospels
The Secret History of Hallucinogens in Christianity
Paperback

* Individual store prices may vary.
Description
Reveals evidence of visionary plants in Christianity and the life of Jesus found in medieval art and biblical scripture--hidden in plain sight for centuries

• Follows the authors' anthropological adventure discovering sacred mushroom images in European and Middle Eastern churches, including Roslyn Chapel and Chartres

• Provides color photos showing how R. Gordon Wasson's psychedelic theory of religion clearly extends to Christianity and reveals why Wasson suppressed this information due to his secret relationship with the Vatican

• Examines the Bible and the Gnostic Gospels to show that visionary plants were the catalyst for Jesus's awakening to his divinity and immortality

Throughout medieval Christianity, religious works of art emerged to illustrate the teachings of the Bible for the largely illiterate population. What, then, is the significance of the psychoactive mushrooms hiding in plain sight in the artwork and icons of many European and Middle-Eastern churches? Does Christianity have a psychedelic history?

Providing stunning visual evidence from their anthropological journey throughout Europe and the Middle East, including visits to Roslyn Chapel and Chartres Cathedral, authors Julie and Jerry Brown document the role of visionary plants in Christianity. They retrace the pioneering research of R. Gordon Wasson, the famous "sacred mushroom seeker," on psychedelics in ancient Greece and India, and among the present-day reindeer herders of Siberia and the Mazatecs of Mexico. Challenging Wasson's legacy, the authors reveal his secret relationship with the Vatican that led to Wasson's refusal to pursue his hallucinogen theory into the hallowed halls of Christianity.

Examining the Bible and the Gnostic Gospels, the authors provide scriptural support to show that sacred mushrooms were the inspiration for Jesus' revelation of the Kingdom of Heaven and that he was initiated into these mystical practices in Egypt during the Missing Years. They contend that the Trees of Knowledge and of Immortality in Eden were sacred mushrooms.

Uncovering the role played by visionary plants in the origins of Judeo-Christianity, the authors invite us to rethink what we know about the life of Jesus and to consider a controversial theory that challenges us to explore these sacred pathways to the divine.
Praise For The Psychedelic Gospels: The Secret History of Hallucinogens in Christianity…
"A great read I recommend to anyone interested in the spiritual aspects of the psychedelic experience."
— Rick Doblin, Ph.D., Multidisciplinary Association for Psychedelic Studies

"I found this book to be a compelling, entertaining account of one couple's quest for the hallucinogenic Holy Grail--a mind-altering travelogue across continents and conspiracy theories. It's The Da Vinci Code meets The Electric Kool-Aid Acid Test."
— Don Lattin, bestselling author of The Harvard Psychedelic Club

". . . possibly uncovers one of the most secret, historical findings of our times--the influence of psychedelics as an integral part of the early Christian experience. . . . bold, courageous, and insightful. A must read!"
— Gerald Jampolsky, M.D., and Diane Cirincione-Jampolsky, Ph.D., coauthors of A Mini Course for Life

"The Psychedelic Gospels is heretical, revolutionary, and outrageous. It claims that there is a direct relationship between the founding and development of Western religions and psychoactive substances and that this is a continuation of an amalgamation of many mind-altering practices and fertility cults found in the Middle East. The scholarship behind these provocative perspectives is impressive, and the hidden subtexts of Christian art are compelling."
— Stanley Krippner, Ph.D., professor of psychology at Saybrook University

"Mushrooms, mushrooms, mushrooms. Once you start looking you see them everywhere. Keep your mind open. Wider!"
— Ben Sessa, MBBS (MD), MRCPsych, psychiatrist and psychedelic researcher

"We live at a time when confused and undisciplined thinking clashes with narrow-minded bigotry. Thus, it is more important than ever to keep an open mind—open to new ideas, open also to rigorous scholarship. Too often, wishful thinking has misled well-intentioned academics, and the media are notorious for sensationalism. I, therefore, applaud the authors for proposing the establishment of an interdisciplinary committee to evaluate the discoveries they present and the conjectures they make in The Psychedelic Gospels."
— Brother David Steindl-Rast, Order of Saint Benedict

"This book expertly navigates through the iconography of mushroom symbolism throughout the ages. One clear message comes through: mushrooms have played a central role in the evolution of human consciousness and, indeed, religion. Thought provoking and well articulated, the authors present a solid case for their thesis. This is an important book to contemplate."
— Paul Stamets, author of Mycelium Running: How Mushrooms Can Help Save the World

"Part travelogue, part anthropological meditation, and part groundbreaking study showing the use of sacred mushrooms in Christian iconography, The Psychedelic Gospels gives readers one of the most unusual books they will ever encounter. Jerry and Julie Brown present a lively account of a psychedelic theory of religion and tell us why it's been suppressed for so many years."
— Mitchell Kaplan, founder of Books & Books

"Impeccably researched and lavishly illustrated, The Psychedelic Gospels reads like a page-turning mystery thriller. An interdisciplinary treasure chest overflowing with rare information, unique insights, and some truly extraordinary head-slapping 'aha' moments. The authors present a compelling case for the influence of entheogens among early Christians."
— David Jay Brown, author of Dreaming Wide Awake and The New Science of Psychedelics

"The authors make obvious and pleasant the idea that there was a high degree of psychedelic use in the early Christian church, far from the exoteric component, something mysterious kept for the initiated few, which might arouse some anger at the system that kept it from their beloved faithful."
— Carlos Adrián Hernández Tavares, coauthor of Mitologia Personal

"A fascinating piece of scholarly work that opens new possibilities of understanding human consciousness."
— David Crosby, singer-songwriter

"What a gentle, careful, scholarly, personal, and all together splendid book! This is not only a provocative and solidly researched book but is an engaging adventure story, a personal story as well as an important contribution to our understanding of the interweaving of psychedelic use and the history of Christianity."
— James Fadiman, Ph.D, author of The Psychedelic Explorer's Guide

"The Psychedelic Gospels is fast paced, well illustrated, and serves up a rich buffet for those believing that the roots of Christianity are fungal. A fun feast for true believers and skeptics alike"
— Frank Dugan, author of Hidden Histories and Ancient Mysteries of Witches, Plants, and Fungi
Park Street Press, 9781620555026, 288pp.
Publication Date: September 24, 2016
About the Author
Jerry B. Brown, Ph.D., is an educator, anthropologist and activist. From 1972 to 2014 he served as founding professor of anthropology at Florida International University in Miami, where he taught a course on "Hallucinogens and Culture."

Julie M. Brown, M.A., is a holistic psychotherapist and health coach, who researches the role of sacred plants in religion.