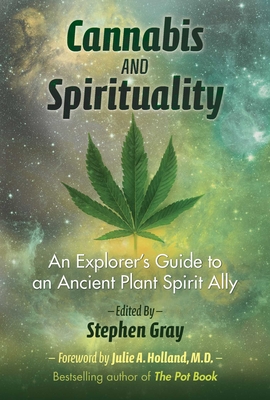 Cannabis and Spirituality (Paperback)
An Explorer's Guide to an Ancient Plant Spirit Ally
Park Street Press, 9781620555835, 288pp.
Publication Date: December 9, 2016
* Individual store prices may vary.
Description
A guide to the benefits and challenges of the use of cannabis in spiritual practice

• Includes chapters by 18 authoritative and influential voices of the modern cannabis movement, including Kathleen Harrison, Joan Bello, Hamilton Souther, Steven Hager, Chris Bennett, Dee Dussault, Jeremy Wolff, and Roger Christie

• Explores the use of marijuana in a wide range of spiritual practices, including meditation, yoga, chanting, visualization, shamanism, group ceremonies, work with other entheogens, and as a creative aid

Truly a medicine for body and soul, one of cannabis's greatest gifts is its remarkable potential for spiritual healing and awakening. In this authoritative guide, editor Stephen Gray and 17 other influential voices of the modern cannabis movement explore the spiritual benefits of cannabis and offer guidance on how to interact with the intelligence of this plant ally, a companion and supporter of humanity for millennia. Exploring cannabis spirituality in practice, Gray's chapters examine dosage, strains, and methods of intake; the use of cannabis to open the creative channels; how to conduct group ceremonies with cannabis; and cautions and counterindications for cannabis use. We hear from Chris Bennett on the religious and ritual use of cannabis from pre-biblical times to the present, Joan Bello on marijuana and the body-mind connection, Dee Dussault on ganja yoga, Kathleen Harrison on humanity's co-evolution with cannabis, and cannabis shaman Hamilton Souther on working with the spirit of cannabis. The contributors explore the spiritual future of this plant ally as well as the ritual use of cannabis by the Rastafarians of Jamaica and the Sadhus of India. The chapters from Brazilian ayahuasca shaman Mariano da Silva and ayahuasca apprentice Francisco present wisdom on comingling the sacramental medicines of cannabis and ayahuasca.

Revealing the potential of "the people's plant" to enhance a wide range of spiritual practices, such as meditation, yoga, chanting, visualization, shamanism, spirit work, and explorations with other entheogens, this guide shows how cannabis is an effective ally on the awakening journey, unlocking the receptive energy in us all and helping us to feel connected to nature, to each other, and to ourselves.
About the Author
Stephen Gray is a teacher and writer on spiritual subjects and sacramental medicines. He has worked extensively with Tibetan Buddhism, the Native American Church, and with entheogenic medicines. The author of Returning to Sacred World: A Spiritual Toolkit for the Emerging Reality, he is also a conference and workshop organizer, leader, and speaker as well as a part-time photographer and music composer under the artist name Keary. He lives in Vancouver, British Columbia.

Julie Holland, M.D., is a psychiatrist who specializes in psychopharmacology and a clinical assistant professor of psychiatry at NYU School of Medicine. An expert on street drugs and intoxication states, she was the attending psychiatrist in the Psych ER at Bellevue Hospital from 1996 to 2005 and regularly appears on the Today Show. The editor of The Pot Book: A Complete Guide to Cannabis and Ecstasy: The Complete Guide and the author of the bestselling Weekends at Bellevue, she lives in the Hudson Valley.
Praise For Cannabis and Spirituality: An Explorer's Guide to an Ancient Plant Spirit Ally…
"WARNING: Reading this book will forever change your opinion of cannabis and your relationship with it. Like too many of us, I had underrated cannabis's spiritual effectiveness. No more! This wonderful, often lyrical, immensely practical book introduces you to its diverse spiritual uses, contemporary practices, and the possible results when you honor and respect the plant, the plant's spirit, and yourself."
— James Fadiman, Ph.D., microdose researcher and author of The Psychedelic Explorer's Guide

"At its bottom line, this book embodies a highly passionate cognitive liberty/religious freedom perspective that will be persuasive, even to nonusers of cannabis--or nonbelievers. This is an informative, compelling, timely volume."
— Neal M. Goldsmith, Ph.D., author of Psychedelic Healing

"The contributors to this volume point to the ancient pedigree of cannabis as a plant substance that assists the work of shamans and spiritual healers and deepens our connection with the higher dimensions of reality and their creative expressions. This is an excellent addition to the literature on the many positive aspects of this sacred medicine plant."
— Ralph Metzner, author of The Unfolding Self

"Cannabis has a long history as a sacrament used to mediate our relationship with the sacred. This book reminds us of this great power plant and how best to take advantage of it!"
— Jason Silva, Emmy-nominated host of National Geographic's hit TV series Brain Games

"Humans have fashioned a relationship with cannabis for many thousands of years, whether medical, recreational, or addictive. This volume offers a succinct yet broad survey of a fascinating aspect of that relationship, people's eternal quest for transcendence."
— Gabor Maté, M.D., author of In the Realm of Hungry Ghosts

"The ideas explored in this book are an important step forward in our societies' evolving understanding of currently illegal drugs."
— Mark Haden, adjunct professor at the University of British Columbia School of Population and Public

"Marijuana has undergone a mass resurgence in the past decade, as legal restrictions are relaxed and the plant's medical benefits are demonstrated. This book provides a deeper context, examining cannabis's value for spiritual exploration and creativity. I hope it inspires a new consciousness in how we approach and make use of it."
— Daniel Pinchbeck, author of Breaking Open the Head

"Inspirational, informational, and insightful, Cannabis and Spirituality more than accomplishes its mission of helping cannabis take its rightful place as one of our wisest and most honored plant spirit allies."
— Robyn Griggs Lawrence, author of The Cannabis Kitchen Cookbook

"Gray offers a cogent case for cannabis as a spirit medicine and provides food for thought, perhaps best considered over a bhang lassi or a pipe of good hashish."
— Chris Kilham, author of The Ayahuasca Test Pilots Handbook and The Five Tibetans

"With a stellar cast of expert contributors, Cannabis and Spirituality is a page-turning anthology of beautifully written essays, overflowing with fascinating historical facts, rare botanical knowledge, and sacred shamanic wisdom about everyone's favorite herbal ally."
— David Jay Brown, author of Dreaming Wide Awake

"This book provides readers with an empowering approach to healing themselves and their relationship with the greater web of life by describing ethnobotanical, spiritual, and medical uses of this important plant."
— Erica L. Wohldmann, Ph.D., professor of psychology at California State University, Northridge

"By describing cannabis's entheogenic uses in Cannabis and Spirituality, Gray and his coauthors establish cannabis's important role in the Entheogen Reformation--religion's current movement--from being based on sacred words and texts to being based on personal spiritual experience."
— Thomas B. Roberts, Ph.D., author of The Psychedelic Future of the Mind

"This is an important book, filled with insights and useful knowledge. A must-read for anyone who seeks to do serious work with our amazing plant allies."
— Graham Hancock, author of Fingerprints of the Gods