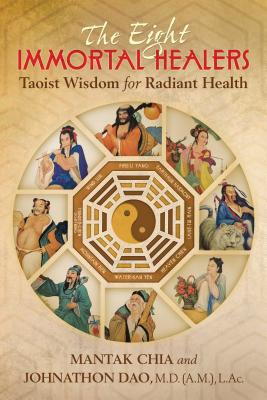 The Eight Immortal Healers (Paperback)
Taoist Wisdom for Radiant Health
Destiny Books, 9781620556504, 416pp.
Publication Date: August 15, 2017
* Individual store prices may vary.
Description
A detailed guide to restoring the eight foundational areas of health

• Explains how each of legendary Taoist masters known as the Eight Immortals has a specific area of health as the focus of his or her teachings

• Offers practices, techniques and guidelines for each of the Eight Immortal Healer teachings, including the important roles of oxygen and water in the body, nutrition, detoxification, exercise, energy work, emotional pollution, and spiritual hygiene

The Eight Immortals are a group of legendary ancient Taoist masters, each associated with a specific area of health or a powerful healing technique. These eight disciplines can bestow vibrant health and well-being and provide the antidote to the stresses, ailments, degenerative diseases, and toxins of modern life.

In this guide to the healing practices of the Eight Immortals, Master Mantak Chia and Johnathon Dao share the legends of each Immortal teacher and detail the many ways to apply their wisdom through nutrition, exercises, supplements, detoxification methods, spiritual practices, and energy work. They explain how the first Immortal, born during the 8th century AD, is associated with oxygen, considered in the Taoist healing perspective as the body's primary nutrient. They discuss how oxygen deficiency is the main culprit in cancer and virus and provide a number of oxygen therapies including the use of hydrogen peroxide and deep breathing to stimulate the metabolism and immune system. The second Immortal Healer centers on water, and the authors explain how chronic dehydration can lead to a host of ailments and offer advice for rehydrating. The other teachings of the Immortal Healers include Nutrition, with guidance on supplements, superfoods, toxic foods, and daily meals; Detoxification, with detailed guidelines for cleansing the body's organs and glands; Avoiding environmental poisons, with advice on vaccines, dental amalgam fillings, sunscreen, chemotherapy, fluoride, and pesticides; Exercise, with step-by-step instructions for Inner Alchemy practices, yoga, and breathing techniques; Maintenance of the energy body, through acupuncture, chi kung healing, magnet therapy, and photon sound beams; and Emotional pollution and spiritual hygiene, with a wealth of practices for balancing the emotional body and staying connected to Source, including forgiveness, meditation, and karmic yoga.

By following these Eight Immortal Healers, you can take control of your health, remove the root causes of the chronic ailments that inhibit well-being and longevity, and choose to live life to the fullest in happiness and radiant health.
About the Author
A student of several Taoist masters, Mantak Chia founded the Healing Tao System in North America in 1979 and developed it worldwide as European Tao Yoga and Universal Healing Tao. He has taught and certified tens of thousands of students and instructors from all over the world and tours the United States annually, giving workshops and lectures. He is the director of the Tao Garden Health Spa and the Universal Healing Tao training center in northern Thailand and is the author of 50 books, including Taoist Foreplay, Inner Smile, Cosmic Fusion, Sexual Reflexology, and the bestselling The Multi-Orgasmic Man.

Johnathon Dao, M.D. (A.M.), L.Ac., is a certified Universal Healing Tao instructor, acupuncturist, and naturopath who has been in clinical practice for 24 years. The founder of E-motion Yoga, he teaches E-motion Yoga and Qigong classes as well as workshops and retreats. He Lives on the Gold Coast, Queensland, Australia.