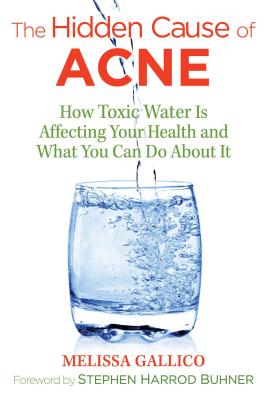 The Hidden Cause of Acne (Paperback)
How Toxic Water Is Affecting Your Health and What You Can Do about It
Healing Arts Press, 9781620557099, 272pp.
Publication Date: May 8, 2018
* Individual store prices may vary.
Description
An investigation into the root cause of the modern acne epidemic--fluoride--and how to remove it from your diet and lifestyle for clear, healthy skin

• Chronicles the existing acne research to reveal fluoride was behind the rise of teenage acne in the mid-20th century and the dramatic increase in adult acne today

• Details how to avoid fluoridated foods and beverages as well as other common sources of fluoride, such as pesticides, pharmaceuticals, and household products

• Explains how to displace fluoride stored in your bones and other tissues through nutrition and the careful use of iodine

According to a recent study, over 20 percent of men and 35 percent of women experience acne after the age of 30. At the same time, remote indigenous societies--such as the Inuit before they "moved to town" in the 1960s--experience no acne at all, even among their teenagers. Many things have been cited as causing acne, from sugar, chocolate, or pizza to dirty pillowcases, hormones, or genetics, but none of these "causes" have been able to explain the majority of acne cases, nor why chronic acne is on the rise.

Using her FBI intelligence analyst skills, Melissa Gallico identifies fluoride as the root cause of the modern acne epidemic. Chronicling the existing acne research, she reveals where each study went wrong and what they missed. She shares her personal 20-year struggle with severe cystic acne not only on her face, but on her neck, chest, back, and even inside her ears. She explains how her travels around the world and her intelligence work helped her pinpoint exactly what was causing her treatment-resistant flare-ups--fluoridated water, foods, dental products, and the systemic build-up of childhood fluoride treatments. She details how to avoid fluoridated foods and beverages and explains how sources of fluoride work their way deeply into our daily lives through water as well as fluoride-based pesticides, pharmaceuticals, and common household products.

The author exposes the corrupt science used to convince people of fluoride's health benefits and examines the systemic toxicity of fluoride, including its anti-thyroid and neurotoxin effects, how it remains in the body for years, and how it can cause the symptoms of illnesses, such as arthritis, fibromyalgia, and depression. She explains how to displace fluoride stored in your bones and tissues through nutrition and the careful use of iodine.

Offering a guide to freeing yourself from persistent adult acne, Gallico shows that it is possible to heal your skin even when dermatologists and their prescriptions have failed.
About the Author
Melissa Gallico is a former military intelligence officer, Fulbright scholar, and intelligence specialist at the Federal Bureau of Investigation. She has instructed classes for FBI analysts at Quantico and provided intelligence support for FBI national security investigations. She graduated with honors from Georgetown University and holds a master's degree from the University of St. Andrews in Scotland. She lives in South Florida.
Stephen Harrod Buhner is an Earth poet and the award-winning author of ten books on nature, indigenous cultures, the environment, and herbal medicine. He comes from a long line of healers including Leroy Burney, Surgeon General of the United States under Eisenhower and Kennedy, and Elizabeth Lusterheide, a midwife and herbalist who worked in rural Indiana in the early nineteenth century. The greatest influence on his work, however, has been his great-grandfather C.G. Harrod who primarily used botanical medicines, also in rural Indiana, when he began his work as a physician in 1911.
Stephen's work has appeared or been profiled in publications throughout North America and Europe including
Common Boundary
,
Apotheosis
,
Shaman's Drum
,
The New York Times
, CNN, and Good Morning America.
www.gaianstudies.org
Praise For The Hidden Cause of Acne: How Toxic Water Is Affecting Your Health and What You Can Do about It…
"This intriguing personal account of one woman's experience with acne is a detailed case report that could have been published in the peer-reviewed literature. Using scientific deduction, careful observations, and self-experimentation--a process used by Nobel Laureates such as Barry Marshall, Werner Forssmann, and Ralph Steinman--Melissa Gallico figured out that the cause of her chronic acne was the fluoride added to her drinking water. The fact that other people who read her book also report that their acne cleared up when they switched to fluoride-free beverages and foods suggests this is an area that deserves rigorous clinical investigation."
— Hardy Limeback, D.D.S., Ph.D., head of preventive dentistry at the University of Toronto (ret.)

"This is an astounding piece of work and a 'must-read' for people wanting the true story about how and why and to what terrible effect the addition of fluoride to drinking water is having. As Gallico's riveting personal story attests, public water fluoridation is, in essence, a hazardous waste management tool that is damaging our health in ways we have yet to fully comprehend. Her deep research into this area and the clear, arresting manner in which she presents it is a valuable, even crucial, contribution to ending the antiquated and dangerous practice of adding fluoride to public drinking water."
— Bill Hirzy, Ph.D., senior scientist at the EPA (ret.)

"Melissa Gallico has authored an engaging book, one that is enjoyable to read despite the seriousness of the subject matter. As she notes, 'it doesn't take a degree in medicine' (or dentistry or science) to appreciate the importance of personal observations in matters of personal health, or to understand the potential consequences of one-size-fits-all medication of the public through the drinking water supply. Fluoride sensitivity (including dermatological, endocrinological, gastrointestinal, and other effects) has been in the medical literature for decades, unrefuted, and deserves the wider awareness that Gallico's work will bring."
— Kathleen M. Thiessen, Ph.D., senior scientist at Oak Ridge Center for Risk Analysis

"...it's hard to not get fascinated by the rabbit hole Gallico uncovers in The Hidden Cause of Acne. Readers will discover more about the science and process that went into fluoridization of our water supply, as well as the many unexpected places fluoride can be found in everyday life, like pesticides used on food crops, medicines, even wine. And readers who are long-term sufferers of adult acne may well benefit from having this new information."
— San Francisco Book Review