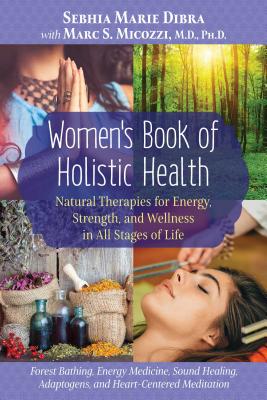 Women's Book of Holistic Health (Paperback)
Natural Therapies for Energy, Strength, and Wellness in All Stages of Life
Healing Arts Press, 9781620557235, 384pp.
Publication Date: July 16, 2019
* Individual store prices may vary.
Description
An in-depth guide for women integrating both recent medical science and natural therapies for optimum health and energy at any age

• Shares the scientifically proven benefits of forest bathing, mindfulness, heart-centered meditation, essential oils, herbs, energy medicine, sound healing, and Ayurveda

• Offers holistic, woman-centered discussions of female reproductive health, including menopause, PMS, endometriosis, pregnancy, postpartum issues, and sexual health

• Explains how best to incorporate holistic treatments into your self-care routine for more energy, hormonal balance, cellular repair, and mental and emotional health

In this hands-on guide to natural health for women, Sebhia Marie Dibra draws from recent medical studies and alternative modalities to present a comprehensive, holistic understanding of female biology and physiology at all stages of life and the most effective treatments and therapies to help you reach optimum health and energy levels at any age.

Explaining how we are each connected to nature, Dibra shows how consciousness practices such as forest bathing, mindfulness, and heart-centered meditation have benefits proven by neuroscience. She reveals the key connections between the GI system and the psycho-neuro-immunologic system of the mind-body, stressing the importance of digestive function in women's health, especially in cases of depression and anxiety. She provides guidance on intermittent fasting and holistic nutrition for more energy, hormonal balance, cellular repair, and mental and emotional health, as well as advice on safe and effective supplements, herbs, and essential oils. Presenting results from recent clinical studies, alongside natural alternatives, she offers in-depth and nuanced discussions of female reproductive health, including the menstrual cycle, menopause, PMS, pregnancy, postpartum issues, and the full spectrum of sexual health. She examines health conditions from a woman-centered perspective, such as fibroids, osteoporosis, and thyroid disease, and explains how best to incorporate energy medicine, sound healing, Ayurveda, and bodywork into your routine.

Highlighting the advantages of a holistic and natural approach, Dibra decodes the complexity of women's health from puberty to post-menopause, giving each woman a self-care toolkit to make informed decisions about her health and well-being at any age.
About the Author
Sebhia Marie Dibra contributes a 21st-century perspective on energetics and spiritual dimensions to health and wellness issues, including life cycle and healthy aging. Coauthor of Common Pain Conditions with Marc Micozzi, among other publications, she is on the editorial board of the European Journal of Physics Education and is a biofeedback retreat facilitator at the Academy of Wellness.

Marc S. Micozzi, M.D., Ph.D., is adjunct professor of pharmacology and physiology at Georgetown University School of Medicine and the founding director of the Policy Institute for Integrative Medicine in Washington, D.C. The author and editor of Fundamentals of Complementary & Alternative Medicine and coauthor of The Spiritual Anatomy of Emotion, Your Emotional Type, New World Mindfulness, and Avicenna's Medicine, he lives in Bethesda, Maryland, and Rockport, Massachusetts.