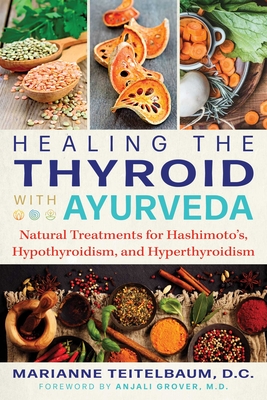 Healing the Thyroid with Ayurveda
Natural Treatments for Hashimoto's, Hypothyroidism, and Hyperthyroidism
Paperback

* Individual store prices may vary.
Other Editions of This Title:
Digital Audiobook (9/16/2019)
Description
A comprehensive guide to addressing the growing epidemic of thyroid disease from the perspective of the Ayurvedic tradition

• Details the author's successful treatment protocols for Hashimoto's thyroiditis, hypothyroidism, and hyperthyroidism developed over more than 30 years of Ayurvedic practice

• Explores the underlying causes of thyroid malfunction, the thyroid's connections to the liver and gall bladder, and the importance of early detection

• Also includes treatments for common symptoms of thyroid disease, such as insomnia, depression, fatigue, and osteoporosis, as well as for weight loss and hair growth

In this comprehensive guide for practitioners and those concerned with thyroid health, Marianne Teitelbaum, D.C., integrates the ancient medicine of Ayurveda with modern scientific findings to address the growing epidemic of thyroid disease.

Revealing how the thyroid is the victim of many factors that conspire to create ill health--and how many cases of thyroid disease go undiagnosed--Teitelbaum focuses not only on treating thyroid problems and symptoms but also on diagnosing them at their earliest, most reversible stages. She outlines the basic principles of Ayurveda, including pulse diagnosis, a key tool for early detection, and explains the successful treatment protocols she has developed over more than 30 years of Ayurvedic practice. She details the underlying reasons for thyroid malfunction, such as inflammation, malnutrition, and toxins, and how the thyroid is connected with the health of the rest of body, including the liver and gall bladder. She explores the Ayurvedic treatment of thyroid-related conditions, such as Hashimoto's thyroiditis, hypothyroidism, and hyperthyroidism, offering guidance on the targeted use of herbs, specific dietary recommendations, proper detoxification, and Ayurvedic recipes. She also includes treatments and remedies for common symptoms of thyroid disease, including insomnia, depression, fatigue, and osteoporosis, as well as for luxurious hair growth and weight loss.

Based on the treatment of thousands of patients, this book also shares success stories of thyroid healing and the scientific studies that support the author's Ayurvedic thyroid protocols. Offering an easy-to-follow yet comprehensive guide, Teitelbaum shows that optimum thyroid health as well as overall health are within everyone's reach.
Praise For Healing the Thyroid with Ayurveda: Natural Treatments for Hashimoto's, Hypothyroidism, and Hyperthyroidism…
"This excellent work beautifully blends ancient Ayurvedic wisdom and modern endocrinology with special reference to management of the thyroid gland. It is a practical guide for both practitioners and readers, helping to reveal the natural way of balancing thyroid function. I strongly recommend this book to all readers, practitioners, and students of the healing sciences."
— VASANT LAD, BAM&S, MASc, author of Ayurveda: The Science of Self-Healing

"This much-needed and timely book presents a road map to what every patient wishes for: a body in perfect balance. Our bodies are home to the greatest hormonal symphony ever played. Your thyroid is one of its conductors. Read this book, follow the guidelines, and feel your body play beautiful music, expressed as vibrant mental and physical health."
— William Sears, M.D., author of The Dr. Sears T5 Wellness Plan

"Healing the Thyroid with Ayurveda is a groundbreaking work for humanity's wellness. At this time of massive environmental crises, Marianne's work is necessary for cleansing and healing manifold layers of illness relating to the thyroid and endocrine system. Synthesizing Ayurveda's ancient knowledge with scientific precision, Marianne Teitelbaum puts forth an incisive work, adding another gem to the timeless pantheon of Ayurveda's wisdom."
— Maya Tiwari, Vedic scholar, humanitarian, and author of Ayurveda: A Life of Balance

"Healing the Thyroid with Ayurveda is finally here. Understanding the individual nature of thyroid disease is the only prescription for a cure. Now we can stop treating with blood tests and symptoms and address the source intelligently and Ayurvedically."
— John Douillard, D.C., C.A.P., author, former NBA nutritionist, and founder of LifeSpa.com

"Dr. Marianne Teitelbaum's new book on thyroid healing offers a completely new and refreshing understanding of thyroid imbalance and the knowledge of how to correct it gently, safely, and fully by addressing root causes unique to each patient. I urge you to read this book and get on the path to healing yourself, your family, and--if you are a doctor--your patients with thyroid conditions. We can only hope that this is the first of many books to come from Dr. Teitelbaum. Read this one now."
— Nancy Lonsdorf, M.D., author of The Ageless Woman and A Woman's Best Medicine

"Healing the Thyroid with Ayurveda is a most useful guide to anyone interested in holistic health care. Dr. Marianne Teitelbaum challenges the insufficient modern approaches to treating thyroid dysfunction by pointing to the root causes of the disease and sharing her success with treating it through the methods of a time-tested and science-proven ancient practice. This book is so important! It will intrigue if not revolutionize the way both patients and doctors address disease."
— Divya Alter, author of What to Eat for How You Feel

"Dr. Marianne Teitelbaum embodies all the wisdom and experience of a great Ayurvedic sage. She explains in language easy enough for the layperson to understand, yet detailed enough for the seasoned practitioner, exactly what we need to do to counteract the alarming epidemic levels of thyroid problems. Going beyond the use of toxic pharmaceuticals and nutraceuticals, Dr. Teitelbaum once and for all gives us a truly natural approach to healing the thyroid gland, sharing her deep knowledge of Ayurvedic herbs, detox recipes, and healing spices. This is a must-read for anyone who is seeking help with their thyroid health. Bravo!"
— Lissa Coffey, author of Song Divine: A New Lyrical Rendition of the Bhagavad Gita,

"Finally, a book that describes how to treat thyroid disorders without the use of pharmaceuticals or nutraceuticals, using an approach that goes beyond all other thyroid books on the market. If you're seeking natural treatments for your thyroid problems, this is the one book to read this year."
— Hari Sharma, M.D., physician and coauthor of Ayurvedic Healing and Contemporary Ayurveda

"This is the first and most important definitive Ayurvedic contribution on thyroid disease in the West. It is a testimonial to the work of her teacher and mentor, Vaidya Rama Kant Mishra, and his family's lineage of Shaka Vansya Ayurveda."
— Bill Dean, M.D., author of IC Bladder Pain Syndrome

"Healing the Thyroid with Ayurveda is a critically important and unreservedly recommended addition to personal, community, college, and university library Alternative Medicine collections in general, and Thyroid Treatment supplemental studies lists in particular."
— Midwest Book Review

"This reference book gives power back to the individual, illustrating that optimum thyroid health as well as overall good health is within our reach, empowering us to further our own healing or to help others on their journey."
— Nexus Magazine, June/July 2019

"Based on her 30 years of practice, Chiropractor Teitelbaum offers successful protocols to treat symptoms associated with the thyroid, such as insomnia, depression, fatigue, osteoporosis, and hair, and weight loss. The references list many scientific citations, but rather than focus on the studies, such as how ashwagandha (Withania somnifera) modulates the thyroid. The goal is general good health achieved through balancing the three Ayurvedic doshas, or constitutions. She also delves into what causes thyroid problems and how to avoid them in the first place. It is admirable and very helpful to the herb world to write these unique book that tackles such a specific condition, especially one that has relatively few natural treatments!"
— Kathi Keville, American Herb Association Quarterly Director
Healing Arts Press, 9781620557822, 288pp.
Publication Date: March 26, 2019
About the Author
Marianne Teitelbaum, D.C., graduated summa cum laude from Palmer College of Chiropractic in 1984. She has studied with several Ayurvedic doctors, including Stuart Rothenberg, M.D., and Vaidya Rama Kant Mishra. The recipient of the Prana Ayushudi Award in 2013, she lectures and writes extensively about Ayurvedic treatments for all diseases. She has a thriving private practice and lives outside of Philadelphia.