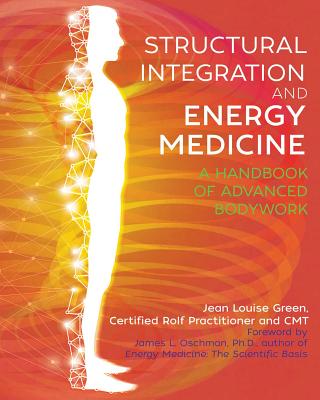 Structural Integration and Energy Medicine (Paperback)
A Handbook of Advanced Bodywork
Healing Arts Press, 9781620557983, 208pp.
Publication Date: January 15, 2019
* Individual store prices may vary.
Description
An illustrated guide to the Structural Integration bodywork process and the relationship between body alignment and energy flow

• Details each of the 10 sessions in the Structural Integration bodywork series, explaining what to expect and how to maximize the benefits

• Explores the relationship between the energetics of the body and its alignment, including a scientific understanding of how gravity affects body alignment

• Explains how to incorporate essential oils and other holistic support tools as well as the psycho-emotional Hellerwork themes

When the body's structure is optimally aligned, not only does it eliminate pain, reduce inflammation, and stop the degeneration of joints and discs, it also enhances the flow of energy in the body and awakens us to greater mental clarity.

In this illustrated guide to Dr. Ida P. Rolf's Structural Integration process, Jean Louise Green introduces the principles of Structural Integration and details each of the 10 sessions in the Structural Integration bodywork series, explaining what to expect and how to maximize the benefits. She explores the relationship between the energetics of the body and its alignment, including an advanced scientific understanding of how gravity can become a beneficial force when the body is properly aligned. She provides clear, accessible descriptions of core concepts such as the Rolf Line and the torus, including a detailed explanation of how to access the energetics of the Rolf Line. She illustrates the rotation patterns of the body and explains how they contribute to pain and how correcting them may minimize the need for hip and knee replacements. She provides movement exercises and support tools for self-care and maintenance between sessions and explains optimal body mechanics for moving, sitting, and standing as well as how to avoid putting stress and strain back into the body. This book is an excellent resource guide to accompany a person through their Structural Integration series.

The author also explores how to incorporate Joseph Heller's psycho-emotional Hellerwork themes in the Structural Integration process and looks at holistic support tools such as electromagnetic resonancing, far-infrared saunas, essential oils, gratitude practices, meditation, and the Five Tibetan yogic exercises.

Offering an energy medicine approach to bodywork, this guide provides both practitioners and laypeople with the necessary tools to dramatically increase the efficiency of the body, release chronic pain, improve mental function, and free energy flow.
About the Author
Jean Louise Green, CMT, is a certified Rolf practitioner, trained by Dr. Ida P. Rolf's first generation teachers. From 2004-2018, Green taught basic and advanced level deep tissue classes as a certified teacher of therapeutic massage and senior staff member at Chico Therapy Wellness Center. A professional member of the Guild for Structural Integration, the International Association of Structural Integrators, and the Associated Bodywork and Massage Professionals, Green maintains a full-time private practice and lives in Chico, California.
Praise For Structural Integration and Energy Medicine: A Handbook of Advanced Bodywork…
"In Structural Integration and Energy Medicine, Jean Louise Green has created an invaluable tool and guide for those interested in as well as those participating in the process of Structural Integration. Unique in a world of proliferating flavors of body-centered modalities, Structural Integration is at once recognizable as a beacon of hope for those who have run out of options as well as a personal process of self-realization. While it is common for body-centered modalities to focus on clinical symptom relief, Structural Integration goes deeper--focusing on the very core of one's being to deconstruct and then reconstruct the person as an integrated whole. This is a process, and as such, the practitioner serves as both a clinician and guide to the client. Structural Integration and Energy Medicine provides both a foundation for understanding the fundamental concepts of the physiologic and scientific aspects of the work and a framework for the conceptual psychological progression that the client experiences over the course of a basic series of the work. This is an invaluable handbook to accompany clients through their ten-session series and provides powerful tools and suggestions to support clients after their Structural Integration series."

"Jean Louise Green's willingness to share how Structural Integration has affected her and her clients' lives is a beautiful expression of what can happen when your tissues are enlivened. Through her insightful words Green invites you to explore, appreciate, and enjoy the energy field we live in. She shares stories from her practice of many years and gives resources for practical application to embody. Whether you are a Structural Integration practitioner, a Structural Integration client, or a soon-to-be client, this book is a wonderful reference along your journey."

"Fresh eyes and ideas on Structural Integration. Excellent resource--a must have for the serious practitioner and a great tool for the client."

"Jean Louise Green's book, Structural Integration and Energy Medicine, is a wonderful introduction and guide for all who are considering receiving this remarkable work. Using Hellerwork Structural Integration session themes, the author elevates the focus on the metaphysical and spiritual rewards, not just the amazing physical benefits. An excellent resource for anyone wanting to experience the benefits of Structural Integration with a Certified Structural Integrator."

"Jean Louise Green writes lucidly of both her personal experience as a client and practitioner of Structural Integration as well as including information about new developments in the field in an accessible form for both practitioners and anyone who is interesting in learning more about Bodywork. She touches on the subtler energetic aspects of Structural Integration, which serves as a helpful guide to looking deeper into the work. I wish there were more books as thoughtful and engaging on the subject as Structural Integration and Energy Medicine!"

"Meeting Jean Louise Green and receiving Structural Integration with her over the past few years has been an important aspect of maintaining our health and wellbeing. The excellent care she gives is matched by her in-depth knowledge of meditation, nutrition, and cutting edge therapeutic technologies. This book is long overdue. It will benefit anyone who is interested in taking their health to a new level."

"Jean Louise Green has undertaken the daunting task of articulating the indescribable to the uninitiated. Green introduces the magic, mystery and wide world of Dr. Rolf's revolutionary work to the next generation. A work that is virtually unknown and often discounted because it is immeasurable. The benefits are measured in the quality of life changes that people go through by receiving the Basic series, sequence and process. If you are looking at this book and you feel you are ready for change then please open Structural Integration and Energy Medicine. Read it with an open heart and mind and let it settle in as you may consider finding a practitioner to start you on your journeying your body conscious, centering and settling into the nature who you are."