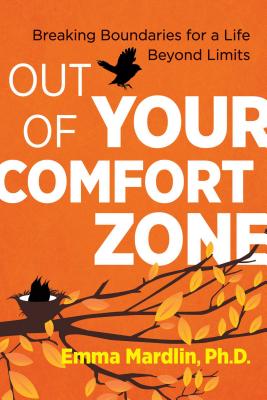 Out of Your Comfort Zone
Breaking Boundaries for a Life Beyond Limits
Paperback

* Individual store prices may vary.
Description
A step-by-step guide to conquering fear and creating an unstoppable mindset

• Offers a customizable approach that incorporates psychological, emotional, and physical techniques to release fear, limitations, and anxiety for good

• Provides a before-and-after measure of your comfort zone with the Zone Test

• Explores different types of fear, why we feel fear and how fear works in the brain, anxiety-reducing foods and how they work nutritionally, and the key psychological markers of a fearless personality

• Includes resilience-builder challenges, anxiety-buster techniques, the intuition indicator tool, and "baby steps" methods to develop confidence

When was the last time you did something that scared you? The last time you really pushed your boundaries, took a risk, and felt you not only bulldozed right through your fear but, in fact, used it to propel you forward? If you've ever successfully confronted and overcome anything, even just for a short while, you'll undoubtedly relate to the profound and overwhelming sense of self-satisfaction that comes with it. This experience provides you with a true sense of freedom, allowing you to breathe effortlessly and fully absorb life, knowing the only thing that can ever really hold you back is you.

Offering a step-by-step guide to incrementally breaking out of your comfort zone and confronting and transforming fear, Emma Mardlin, Ph.D., equips us with effective working tools to conquer our deepest fears in any context, be they small or big, and harness them to push us further toward our ultimate goals, purpose, and full potential. She provides the innovative Zone Test to measure your comfort zone before and after working through the book, tools such as the intuition indicator and RACE technique, and the thought-provoking "life discovery model" designed to support you in your new adventures once you've conquered your fears and let go of limitations. Offering practices to start the journey toward exciting positive change, she presents resilience-builder challenges, anxiety-buster techniques, practices for indestructible thinking, and "baby steps" to build confidence. She explores why we feel fear and how fear works in the brain, anxiety-reducing foods and how they work nutritionally, as well as the key psychological markers of a fearless "zone zero" personality.

Whether you experience irrational fear, have a phobia that plagues you, look back on a lifetime of anxiety and limitations, or suffer from nerves and a lack of confidence, this guide provides a full range of comprehensive resources and tools to help you fully transform your fears, discover your true ambitions, and achieve everything you can in life.
Praise For Out of Your Comfort Zone: Breaking Boundaries for a Life Beyond Limits…
"I seriously pushed my boundaries and found great inspiration from reading Mind Body Diabetes and then reading Emma's second book Out of Your Comfort Zone. I found it a powerful and enlightening read in somany ways, the perfect resource taking me to new and exciting heights with my life in general. A truly excellent book for whatever stage of life you're at, with whatever fears or holdbacks you may have."
— Jo Berry, peace activist, public speaker, and conflict resolution consultant

"Seeing Dr. Em and applying everything in this book, I've learned how to step out of my comfort zone and seriously break boundaries to experience an amazing life that was once unimaginable, given my severe traumatic anxiety. From being told I'd always be on antidepressants to now being medication-free, I'm a happy, healthy, and successful 23-year-old. Thank you so much. A brilliant read encapsulating everything!"
— Jasmine Doughty, civil servant and positive change advocate

"Having experienced life at my lowest ebb, to the extent I was ready toend it all, I can say 100 per cent that Em made an enormous differencein the way I saw life. Without all her help--basically everything she's putin this book--and her natural manner to add a certain sense of humourand solution in even the darkest times, I would have been pushed overthe edge. Thanks to all our work I'm a totally different person from that time and for sure out of my comfort zone, pushing new boundaries likeyou wouldn't believe! Thank you so much."
— Vincent Shay, ex-military personnel, outdoor pursuits trainer, and youth leader
Findhorn Press, 9781620558249, 176pp.
Publication Date: January 15, 2019
About the Author
With over 21 year's experience of T1 diabetes, top professional expertise in mind body medicine, and personally achieving 5.8% HbA1C on minimal insulin, Emma Mardlin continues 'revolutionizing and stopping diabetes'. As partner to The Pinnacle Practice she works as a clinician, writer and trainer within her field. She lives in the UK.
or
Not Currently Available for Direct Purchase