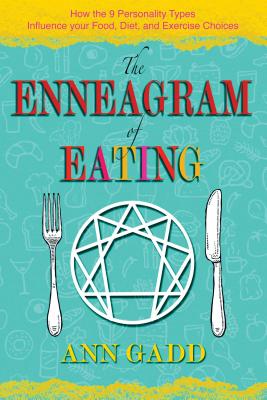 The Enneagram of Eating
How the 9 Personality Types Influence Your Food, Diet, and Exercise Choices
Paperback

* Individual store prices may vary.
Description
A guide to using your Enneagram personality type to understand your approach to eating, dieting, and exercise

• Shows how the Enneagram system of personality types can explain your relationship to food, emotional triggers and childhood patterns around eating, food choices, best methods for weight loss or gain, possible addictions, love (or not) for entertaining, and the right exercise method to keep you motivated

• Includes an Enneagram food-personality test and explains how understanding your Enneagram type allows you to alter your subconscious programming and become not only physically, but emotionally healthier

• Provides examples of healthy and unhealthy expressions of each personality type's relationship to food and exercise

Have you ever wondered why some people seem to adore food, while others find eating simply a need? Why some people just love to work out and others absolutely abhor anything to do with physical exercise? Why some love entertaining, while others would rather spend a quiet evening alone?

In The Enneagram of Eating, Ann Gadd reveals how the well-known Enneagram system of personality types can explain your relationship to food and exercise. Including an easy Enneagram food-personality test to find your type, she devotes a full chapter to each of the 9 personality types. She provides an understanding of each type's emotional eating triggers, including the emotional wounds and childhood patterns that formed them, what exercise regime will keep you motivated, why you entertain the way you do (or don't), and the best methods for weight loss or gain. The author examines how we view our bodies, how we deal with food and eating, our behaviors when dining out or hosting a dinner party, possible addictions, and where our enthusiasm (or lack thereof) for exercise originates. Stressing how our emotional health affects our physical selves, the author provides examples of healthy and unhealthy development within each type.

Gadd shows how knowing how each type reacts around food will make it easier for us to alter our subconscious programming and become not only physically, but emotionally healthier. Offering fascinating insight into our subconscious attitudes toward food, she aims to inspire you to become more aware of your approach to eating in general, so you can develop healthier and happier ways of being.
Praise For The Enneagram of Eating: How the 9 Personality Types Influence Your Food, Diet, and Exercise Choices…
"Ann invites us to consider our day-to-day habits and what can support us in making realistic changes. This involves looking at the difficult aspects of our food and lifestyle choices. If you are new to the Enneagram, this book is a great start to helping you get orientated. For those who know about this ancient and modern-day teaching--it is food for thought."
— Monika Adelfang, one of the principal founders and developers of the Nine Domains Approach

"I found The Enneagram of Eating to be an inviting and informative introduction not only to the Enneagram but also a reminder of how our ingrained habits of who we think we are unconsciously impact the choices we make about life, including diet and exercise. Ann reminds us that "it doesn't have to be that way", and invites us to a more mindful and aware consideration of our life's unlimited options, while gently applying the helpful and guiding principles of the Enneagram."
— Brian Taylor, Vice-President of the Enneagram Institute
Findhorn Press, 9781620558270, 192pp.
Publication Date: October 16, 2018
About the Author
Ann Gadd is a writer, holistic practitioner, workshop facilitator, and journalist. An avid, long-term student of the Enneagram, she offers Enneagram workshops for beginners and advanced students. The author of several books, including The Girl Who Bites Her Nails, The A-Z of Common Habits, and Finding Your Feet, Ann lives in Cape Town, South Africa.