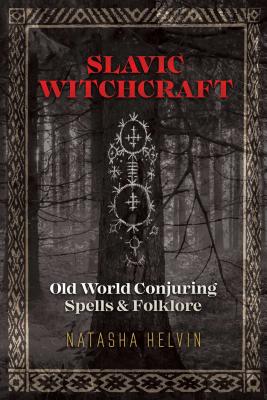 Slavic Witchcraft
Old World Conjuring Spells and Folklore
Paperback

* Individual store prices may vary.
Other Editions of This Title:
Digital Audiobook (10/28/2019)
Description
A practical guide to the ancient magical tradition of Russian sorcery and Eastern Slavic magical rites

• Offers step-by-step instructions for more than 300 spells, incantations, charms, amulets, and practical rituals for love, career success, protection, healing, divination, communicating with spirits and ancestors, and other challenges and situations

• Reveals specific places of magical power in the natural world as well as the profound power of graveyards and churches for casting spells

• Explores the folk history of this ancient magical tradition, including how the pagan gods gained new life as Eastern Orthodox saints, and shares folktales of magical beings, including sorceresses shapeshifting into animals and household objects

Passed down through generations, the Slavic practice of magic, witchcraft, and sorcery is still alive and well in Russia, the Ukraine, and Belarus, as well as the Balkans and the Baltic states. There are still witches who whisper upon tied knots to curse or heal, sorceresses who shapeshift into animals or household objects, magicians who cast spells for love or good fortune, and common folk who seek their aid for daily problems big and small.

Sharing the extensive knowledge she inherited from her mother and grandmother, including spells of the "Old Believers" previously unknown to outsiders, Natasha Helvin explores in detail the folk history and practice of Russian sorcery and Eastern Slavic magical rites, offering a rich compendium of more than 300 spells, incantations, charms, and practical rituals for love, relationships, career success, protection, healing, divination, averting the evil eye, communicating with spirits and ancestors, and a host of other life challenges and daily situations, with complete step-by-step instructions to ensure your magical goals are realized. She explains how this tradition has only a thin Christian veneer over its pagan origins and how the Slavic pagan gods and goddesses acquired new lives as the saints of the Eastern Orthodox Church. She details how the magical energy for these spells and rituals is drawn from the forces of nature, revealing specific places of power in the natural world as well as the profound power of graveyards and churches for casting spells. She explores the creation of amulets and talismans, the importance of icons, and the proper recital of magical language and actions during spells, as well as how one becomes a witch or sorceress.

Offering a close examination of these two-thousand-year-old occult practices, Helvin also includes Slavic folk advice, adapted for the modern era. Revealing what it means to be a Slavic witch or sorceress, and how this vocation pervades all aspects of life, she shows that each of us has magic within that we can use to take control of our own destiny.
Praise For Slavic Witchcraft: Old World Conjuring Spells and Folklore…
"This book is a lifeline, preserving a lineage of practices passed through generations, graciously presented to the public to partake of the experience and insight gained."
— Maja D'Aoust, Witch of the Dawn and author of Familiars in Witchcraft

"Natasha Helvin has not shied away from including both blessings and curses in a comprehensive Slavic grimoire that addresses just about any life situation. Within these fascinating pages you will learn to craft love spells and breakup spells, spells for money and business success, spells to win in court, to surround yourself with protection while traveling, spells for peace in the home, for health and healing, and for prophetic dreams. The author concludes with traditional Slavic tips for how to live a good life. A very practical how-to guidebook for anyone interested in ancient forms of peasant wisdom and magic."
— Ellen Evert Hopman author of The Real Witches of New England and The Sacred Herbs of Samhain

"Slavic Witchcraft is a deep dive into the spells and practices of traditional witches from Russia, Ukraine, and Belarus. Natasha Helvin shares cultural and familial practices--real old world witchcraft--that can't be found in any other modern book on the subject. This book reveals the ancient pagan practices that are still entwined with the current Orthodox religion that is very much in place."
— Phoenix LeFae, author of Cash Box Conjure and Hoodoo Shrines and Altars

"In Slavic Witchcraft, Natasha Helvin offers us a fine selection of Slavic charms arranged by type--love, money, protection, health, and more. Her book reflects ancestral beliefs that Christianity and the demonization of former deities were unable to eradicate. This book is definitely worth going out of your way to get."
— Claude Lecouteux, author of The Book of Grimoires

"This book offers unique insights into regional Slavic magical practices and superstitions that have remained mostly unchanged for centuries. It gives a singular insight into the region's culture and its accommodation of Christianity over time. The book is nicely formatted and the material is well--organized and easily accessed. Recommended for those interested in studying regional traditions."
— Elizabeth Hazel, FacingNorth.net

"The book gives you some great reference and resource for Russian witches and sorcerers who just adore learning more about the entire craft and what they may learn… this is one book out-of-a-million that brings such clearness and ease to the one that reads it, like those of a first-timer in witchcraft or who've been part of this religion for so long."
— Inspired 2 Craft

"The book feels very much like a deep dive into the charms and practices of Slavic Witchcraft, both beneficial and baneful. From hexing noisome coworkers and stealing the luck of others, to protecting oneself from curses while utilizing love and healing charms, Helvin's thin book is ostensibly opulent with orisons of all varieties. Looking for a quick charm to stop nasty rumors? Perhaps something a bit more banishy? This book's got a slew of clever ideas one can springboard from. In fact, I challenge any Witch worth their salt to not find an extremely useful hex or charm within Slavic Witchcraft's pages. Highly approved and recommended."
— The Witches' Almanac
Destiny Books, 9781620558423, 224pp.
Publication Date: August 6, 2019
About the Author
Born in the Soviet Union, Natasha Helvin is an occultist, hereditary witch, and priestess in the Haitian Vodou tradition, as well as an avid scholar of other magical traditions. She learned the ancient Slavic secrets of magic and healing from her family and, as a child, often saw her grandmother and mother use magic in their everyday lives to help neighbors and friends. A professional rootworker and spiritual coach, she lives in the Pacific Northwest.