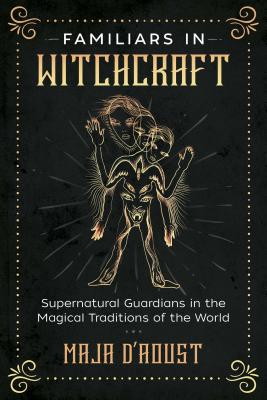 Familiars in Witchcraft
Supernatural Guardians in the Magical Traditions of the World
Paperback

* Individual store prices may vary.
Description
A comprehensive exploration of familiars and their many forms and powers

• Explores witch's familiars in folklore, shamanic, and magical traditions around the world, including Africa, India, Scandinavia, ancient Greece, and China

• Explains how familiars are related to shamanic power animals and how the witch draws on her personal sexual energy to give this creature its power

• Examines the familiar in alchemical, Hermetic, and Egyptian magical literature, including instructions for procuring a supernatural assistant

Exploring the history and creation of a "witch's familiar," also known as a spirit double or guardian spirit, Maja D'Aoust shows how there is much more to these supernatural servant spirits and guardians than meets the eye. She reveals how witches are not the only ones to lay claim to this magician's "assistant" and examines how the many forms of witch's familiars are well known in folklore throughout Europe and America as well as in shamanic and magical traditions around the world, including Africa, India, and China.

The author explains how familiars are connected with shapeshifting and how the classic familiars of medieval witchcraft tradition are related to the power animals and allies of shamanic practices worldwide, including animal guardian spirits of Native American traditions and the daimons of the ancient Greeks and Romans. She examines the fetch spirit, also known as the fylgia in Scandinavian tradition, and how the witch or sorcerer draws on their personal sexual energy to give this creature its power to magnetize and attract what it was sent to retrieve. She looks at incubus, succubus, doubles, doppelgangers, and soul mates, showing how familiars can also adopt human forms and sometimes form romantic or erotic attachments with the witch or shaman.

Reviewing alchemical, Hermetic, and Egyptian magical literature, including the nearly forgotten alchemical works of Anna Kingsford, D'Aoust explores their instructions for procuring the attention of a supernatural assistant as well as an extensive description of the alchemical wedding and how this ritual joins the magician and familiar spirit into a single unified consciousness. Exploring fairy familiars, she reveals how a practitioner can establish a "marriage" with a totemic plant or tree spirit, who, in return, would offer teachings about its medicinal and visionary powers.

Delving deeply into the intimate relations of humanity with the spirit world, D'Aoust shows how forming connections with living forces other than human enables us to move beyond the ego, expand our magical abilities, as well as evolve our conscious awareness.
Praise For Familiars in Witchcraft: Supernatural Guardians in the Magical Traditions of the World…
"Guiding us gently through the realms of black cats and demon lovers, sibyls and oracles, earth angels and falling stars, Maja D'Aoust consistently returns to history and etymology as she reveals how familiar spirits, in their various shapes and forms, have always lived among us."
— Mikita Brottman, author of Phantoms of the Clinic and An Unexplained Death

"In Familiars in Witchcraft, Maja D'Aoust brings together a vast wealth of lore, history, and incredibly useful insights with such readability and grace. In a subject cloaked in mystery, the author reveals her life experience and devoted education in what should be considered essential reading for the serious occultist and seeker alike."
— Gabriel Dean Roberts, author of The Quest for Gnosis

"Maja D'Aoust has a unique talent for taking esoteric subjects and presenting them in a way that is lucid and insightful to the contemporary mind. Familiars in Witchcraft is useful to both scholars of the occult and the un-familiar."
— Brian McGreevy, author of Hemlock Grove

"Maja D'Aoust writes from the depth of her personal experience and never offers simple opinions or conjecture on her subject matter. Instead, what she gives us is background and evidence. Maja is not only a visionary practitioner but also a scholar with an oracle's ability to draw out what's important. The magic of Familiars in Witchcraft, and all of Maja's writing, is the way she pulls knowledge from the vast well of history and presents it to us in a clear, modern, conversational tone. After years of public lecturing, Maja is able to present ideas that can often seem arcane or impenetrable in a way that seems almost effortless. Her work serves as a bridge for lost or ancient wisdom, making it useful and accessible for the reader today."
— Ron Regé Jr., author of The Cartoon Utopia

"Impressively informative, expertly written, organized and presented, Familiars in Witchcraft: Supernatural Guardians in the Magical Traditions of the World is an extraordinary and unreservedly recommended addition to community and academic library Metaphysical Studies collections in general, and Witchcraft supplemental studies reading lists in particular. It should be noted for students, academia, and non-specialist general readers with an interest in the subject that "Familiars in Witchcraft" is also available in a digital book format (Kindle, $11.99)."
— Midwest Book Review

"There's so much more in the world to be considered a "familiar" than your typical black cat. D'Aoust takes a truly global approach to the conversation. Familiars in Witchcraft is wonderful, global look at what defines a familiar and how that title is mutable depending on culture. A worthwhile read for all those interested in spirit."
— The Magical Buffet

"Familiars in Witchcraft lucidly interweaves the lore of dozens of disparate cultures into a colorful quilt, and then points out the threads most common to all. Maja writes with the sweeping knowledge of a historian, but with much less of the snooze factor usually associated with said moniker. She is also adept at packing a slim cover with a massive amount of information, each bit more fascinating than the last. So if the odd spirits who torment and treat with magick users are your fancy, no matter where your tradition may stem from, there should be plenty of tantalizing tidbits within."
— The Witches' Almanac,
Destiny Books, 9781620558461, 160pp.
Publication Date: July 16, 2019
About the Author
Maja D'Aoust, known as the Witch of the Dawn, is a practicing Witch and scholar of alchemy and occult lore. After completing her bachelor's degree in biochemistry, she studied Oriental medicine and acupuncture and later earned her master's degree in transformational psychology with a focus on shamanism, the I Ching, and ancestors. She is the author of A Witch's Bestiary: Visions of Supernatural Creatures, co-author of The Secret Source, and creator of a Tarot deck, The White Witch Tarot. She lives in Los Angeles.