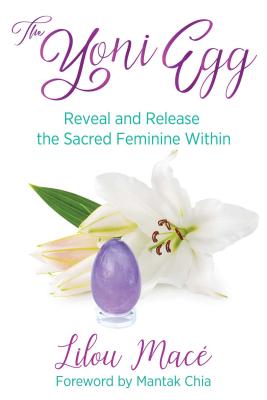 The Yoni Egg
Reveal and Release the Sacred Feminine Within
Paperback

* Individual store prices may vary.
Description
Reveals the practices and rituals of the yoni egg for physical, emotional, sexual, and spiritual growth and healing

• Explains how to use a yoni egg at different stages of life to access inner beauty and wisdom, improve your sex life, prevent urinary incontinence and other women's concerns, prepare for and recover from childbirth, release emotional trauma, boost confidence, and enhance vital energies

• Reveals the properties and benefits of 12 different stone eggs along with guidelines for choosing the egg that will work best for you

• Includes contributions from Taoist and tantric master teachers, including Mantak Chia, Minke de Vos, Aisha Sieburth, Jutta Kellen-Shepherd, Sarina Stone, Shashi Solluna, and Jose Toiràn, as well as testimonials from women of all ages

Used for thousands of years throughout Asia, including by the royal concubines of the Chinese emperors, yoni eggs are egg-shaped stones used internally to help tone the pelvic floor and vaginal muscles as well as increase sensitivity, enhance intimate awareness, release emotional traumas, and open access to the sacred feminine within.

In this full-color step-by-step guide, Lilou Macé details the techniques and rituals of yoni egg practice, aiming to dispel fears and reservations about its use and reveal its profound benefits for body, mind, and spirit. She explains how the yoni is not merely a body part, but the portal to greater wisdom and self-knowledge--your temple of the sacred feminine. Providing an anatomical guide to the yoni, she shows how it contains reflexology points and energy meridians that can be worked with through different placements of the yoni egg. She offers detailed instructions for yoni egg exercises, including how to use a yoni egg for the first time, and explores how these techniques can help you have more intense orgasms, prevent urinary incontinence and other women's health issues, prepare for and recover from childbirth, release trauma and negative emotions trapped within your body, boost your confidence and femininity, and unlock access to your inner source of creativity and wisdom.

The author explores the properties and healing benefits of 12 different gemstone eggs, from the well-known jade egg to lesser-known eggs such as amethyst, obsidian, and green aventurine, along with guidelines for choosing the stone type and egg size that will work best for you. Concluding with rituals for initiating yourself into the power of your yoni and for releasing the sacred feminine within, the author shows how each of us has the power to heal, to be kind to ourselves, and to reveal our own inner beauty and wisdom.
Praise For The Yoni Egg: Reveal and Release the Sacred Feminine Within…
". . . offers a full-spectrum exploration of playful, pleasurable, and healing ways to practice with the yoni egg. I highly recommend this book to boost your path of self-love. Macé's positive approach to feminine empowerment is inspiring for women!"
— Minke de Vos, author of Tao Tantric Arts for Women

"I applaud Lilou Macé's fantastic contribution to the wellness of womb wisdom around the world. It is glorious to see these feminine mysteries out there for all to find. Gift all those women you love with this book and they will be truly thankful."
— Anaiya Sophia, author of Fierce Feminine Rising and Sacred Sexual Union

"The Yoni Egg by Lilou Mace takes us where most people are afraid to go, the sexual center of power and life in any woman on earth. In this groundbreaking book, Lilou reveals how our sacred life force is held in our bodies, souls, and Spirits, and how, when treated with the love and respect it deserves, releases the most powerful healing force on earth. A must read for any woman who wants to fully own and heal her sexual power. And for any man who wants to learn how to be with a goddess."
— New York Times bestselling author of The Answer is Simple: Love Yourself, Live Your Spirit
Destiny Books, 9781620558652, 192pp.
Publication Date: September 3, 2019
About the Author
Lilou Macé is a French-American author, speaker, and webTV interviewer. Inspired by Oprah Winfrey, she has interviewed thousands of experts and scientists since 2006 from all over the world about the art of creating a conscious, healthy, and fulfilling life, posting her interviews on her website LilouMace.com and YouTube channel, where she now has over 70 million video views. She lives in Bordeaux, France.

A student of several Taoist masters, Mantak Chia founded the Healing Tao System in North America in 1979 and developed it worldwide as European Tao Yoga and Universal Healing Tao. He has taught and certified tens of thousands of students and instructors from all over the world and tours the United States annually, giving workshops and lectures. He is the director of the Tao Garden Health Spa and the Universal Healing Tao training center in northern Thailand and is the author of 50 books, including Taoist Foreplay, Inner Smile, Cosmic Fusion, Sexual Reflexology, and the bestselling The Multi-Orgasmic Man.