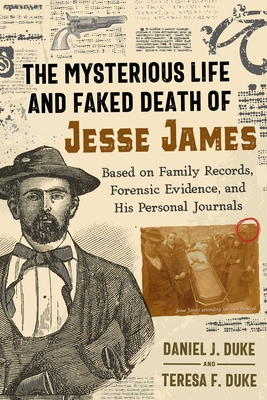 The Mysterious Life and Faked Death of Jesse James
Based on Family Records, Forensic Evidence, and His Personal Journals
Paperback

* Individual store prices may vary.
Description
A deep investigation into historical documents that prove the notorious outlaw Jesse James faked his own death

• Presents the legend of Jesse James and counters it with the real story, based on family records

• Provides photographic evidence, a journal of Jesse James's, and historical records that prove James faked his death, verified by experts and civic authorities

• Debunks the 1995 DNA test results of James's supposed remains

The story of the notorious outlaw Jesse James's assassination at the hands of Robert Ford has been clouded with mystery ever since its inception. Now, James's great-great-grandchildren Daniel and Teresa Duke present the results of more than 20 years of exhaustive research into state and federal records, photographs, newspaper reports, diaries, and a 1995 DNA test in search of the truth behind Jesse James's demise.

Explaining how the accepted version of the history of Jesse James is wrong, the authors confirm their family's oral tradition that James faked his own death in 1882 and lived out his remaining days in Texas. They methodically unravel the legend surrounding his death, with evidence vetted by qualified experts and civic authorities. They share the journal of their great-great-grandfather, kept from 1871 to 1876 and verified to be written in James's handwriting. They reveal forensically confirmed photographs of James before and after his supposed killing, including one of James attending his own funeral. Examining James's life both before and after his faked death, they provide an account of where he lived and who he associated with, including his interactions with secret societies. They compare the contradictory newspaper reports of James's death with accounts by his family and associates, which support that the man buried as James was actually his cousin, and reveal how James tricked authorities into believing he had been killed.

Further supporting their claim, the authors debunk the DNA test results of the exhumation of James's body in 1995. The Dukes detail the ways in which the test was fraudulent, an assertion supported by the deputy counselor for Clay County at the time of the testing. Backed by a wealth of evidence, the descendants of Jesse James conclusively prove what really happened to America's Robin Hood.
Praise For The Mysterious Life and Faked Death of Jesse James: Based on Family Records, Forensic Evidence, and His Personal Journals…
"Public fascination with enigmatic and mythical figures from history is often skewed by bias or myth; sometimes the truth is unpleasant and the lies are far more comfortable. Within The Mysterious Life and Faked Death of Jesse James, Daniel and Teresa Duke, the great-great-grandchildren of the famed outlaw, finally put to rest many of the myths and misconceptions. The book is a testimony to the tireless research of their mother, Betty Dorsett Duke, to find out the truth about her ancestor, which was sadly cut short by her untimely death. Daniel and Teresa have continued her legacy, and it is one that she--and Jesse--would no doubt be proud of."
— Philippa Faulks, coauthor of The Masonic Magician

"Drawing on more than 20 years of research, Daniel and Teresa Duke expound upon the family lore, Jesse's diaries, and legal documents to disprove the misconception that their great-great-grandfather died in 1882 and instead reveal that he lived for another 40 years in Texas under a different name, remaining unapologetic about his outlaw days. They give us the details of Jesse's 'lost years' and what about Jesse remains elusive to modern science."
— Mark Eddy, cohost of Night-Light
Destiny Books, 9781620559666, 208pp.
Publication Date: June 9, 2020
About the Author
Daniel Duke, the great-great-grandson of Jesse James, grew up surrounded by stories of lost outlaw treasures. For more than two decades he has researched the mysteries involving his family, Freemasonry, and the Knights Templar. He lives in Texas.

Teresa F. Duke has spent more than 20 years investigating the truth about Jesse James, her great-great-grandfather, including handwriting analysis, genealogical history, and assisting her mother compile materials for three books on Jesse James. She lives in Texas.