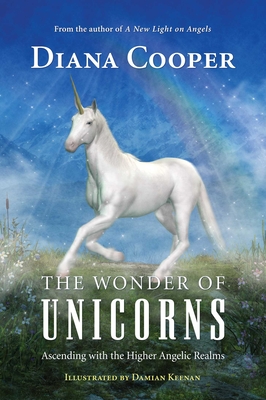 The Wonder of Unicorns
Ascending with the Higher Angelic Realms
Paperback

* Individual store prices may vary.
Description
A guide to engage with the majesty and wisdom of unicorn energy

• Reveals the role of unicorns in our soul evolvement today as well as in legends and myths and explains how they open our hearts, offer protection and support, and inspire us to choose actions for the highest benefit of all

• Provides many exercises, meditations, ceremonies, dream work practices, and games to help you consciously connect with your unicorn, raise your energetic level, and spiritually progress on your journey to enlightenment

• Shares anecdotes and real-life stories of people meeting unicorns and experiencing their energy

Fully of the angelic realms, unicorns live in the seventh dimension, the seventh heaven. These beautiful creatures are aspects of the divine, in the same way angels are. While angels work through the heart, unicorns work with the soul and help you fulfill your pre-life contracts through their energy.

In The Wonder of Unicorns Diana Cooper explains ancient myths and legends of these amazing energetic beings from a higher spiritual perspective. Who are they, these seventh-dimensional creatures of myth and magic? Where do they stand in the angelic hierarchy and what is their role with regard to us humans? How can you meet and engage with them as an individual?

These magical beings of light, absent from the Earth for many centuries, are now returning to guide humanity on their spiritual path. Prevalent in the times of Atlantis, unicorns open hearts through bringing in joy, wisdom, and healing. They offer protection and support and inspire us to choose actions for the highest benefit of all. Consciously connecting and working with your unicorn will enable you to raise your energetic level and assist you on your journey to enlightenment. Create a unicorn humming ball, engage in a unicorn healing, or join in dream work with your unicorn.

Whether aspiring to help the world at large or simply improve a small corner of it, enlightenment seekers can apply the meditations, rituals, ceremonies, and games featured in this book to unleash the great abilities of these elusive spirit guides. With wonderful real life stories and anecdotes from people who have seen and experienced unicorns first hand, The Wonder of Unicorns is a book to inspire and empower you on your spiritual path.
Praise For The Wonder of Unicorns: Ascending with the Higher Angelic Realms…
"When I first read The Wonder of Unicorns, I couldn't put the book down -- it spoke directly to my soul and helped me to bring my visions into the world! If you want to dive deep into (re-)connecting with these beautiful celestial beings, the unicorns, I truly recommend this unique book with its high frequency and its wonderful and life-changing meditations, exercises, and rituals. You can also feel Diana's pure light and grace pouring through every single page."
— ISABELLE VON FALLOIS, author of The Power of Your Angels

"Diana Cooper has again paved the way for our helpers from higher dimensions with original and timeless work, exploring the energy and origins of the unicorns. These souls are the most powerful we will ever encounter, and incredible changes occur when they enter our lives. Read this book to learn how and why!"
— TIM WHILD, coauthor of The Archangel Guide to Ascension

"The light-filled energy of the unicorns pulses through this book. It's a treasure trove, densely packed with metaphysical and historical context, anecdotal evidence of their presence, and transformative influence. Detailed exercises are given for practical application on how to work with these soul guardians, increasingly present to assist humanity in this era. A must-have manual for modern times."
— DAWN BROWN, spiritual coach, healer, and author of Chibi Anime Angel Cards

"Diana Cooper's The Wonder of Unicorns is a life-changing book that has opened my eyes to the magical kingdom of these amazing high-frequency beings. It has brought into my life three amazing unicorn guides who are helping me step more and more into my power and align more and more with my soul mission. Much gratitude."
— FRANZISKA SIRAGUSA, principal teacher with the Diana Cooper School of White Light and author of High

"In this updated book world renowned teacher Dianna Cooper engages with those magical creatures from the angelic realms: Unicorns. Absent from the Earth since the time of Atlantis these heavenly begins are returning to guide us and enlightenment seekers will find the meditations and rituals Diana describes a useful tool to connect with their unicorn."
— Cygnus Review
Findhorn Press, 9781620559833, 240pp.
Publication Date: November 5, 2019
About the Author
Diana Cooper is a therapist, healer, author of several books, and the founder of the Diana Cooper Foundation. Her journey started during a time of personal crisis when she received an angel visitation that changed her life. Since then the angels and her guides have taught her about the angelic realms, unicorns, fairies, Atlantis, and Orbs as well as many other spiritual subjects. Through her workshops and therapy practice she has helped countless people find their life mission, fulfill their potential, and empower their lives. Diana's aim and vision is to light the way to enable children, adults, and the planet to ascend graciously and happily.

Founding partner in Design Factory, Dublin from 1983 to 1990. Damian Keenan subsequently relocated to Germany and is currently based in Heidelberg. For the past 20 years he has worked as designer/illustrator for a range of national/international clients that include small-to-middle size companies, advertising agencies and publishers.