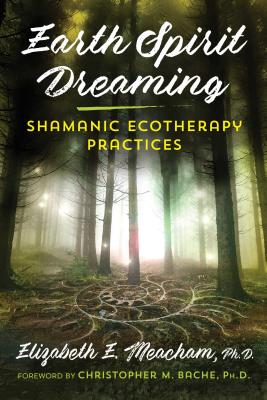 Earth Spirit Dreaming
Shamanic Ecotherapy Practices
Paperback

* Individual store prices may vary.
Description
A guide to co-creating a healing vision for humanity and the Earth through nature-connected shamanic rituals

• Explains the Earth Spirit Dreaming process for rebirthing inherent shamanic abilities with dozens of practices in three categories: Earth-connecting practices, Spirit-connecting practices, and Dream-connecting practices

• Provides experiential exercises to foster interactions with the intelligences and elemental energies of nature and the Spirit realm, realign you with the rhythms and flow of life, and co-create a healing dream for humanity and all of life on our planet

• Contains step-by-step directions for connecting with the light guides of the planet for guidance and healing

Humanity has become profoundly disconnected from the web of life on Earth as well as from nature as a whole. In this practical guide, Elizabeth E. Meacham details her field-tested method of shamanic ecotherapy practices to resolve this centuries-long trend toward disconnection. Through these practices, you will learn how to reconnect to Earth's systems and help restore health and balance to people and the planet.

Translating transformative ideas from visionary environmental thinkers into engaging shamanic rituals for profound spiritual growth, Meacham offers dozens of practices in three categories: Earth-connecting practices, Spirit-connecting practices, and Dream-connecting practices. Building on one another, the exercises open channels to allow you to directly experience the intelligences of the Earth and Spirit realms, rebirth your inherent shamanic abilities, realign you with the rhythms and flow of life, and reclaim your ancestral power for co-creating a healing dream for our species and all of life on our planetary home. Guiding the reader through a progressively deepening journey toward connection with ourselves, each other, and the consciousness of our biosphere, the practices also invite profound mindfulness, as we work to hold a vision of connection with the Earth and Spirit realms, while choosing consciously to focus on joy, beauty, gratitude, love, and healing.

Illuminating a shamanic awakening within Western culture at the dawn of an ecological age, Earth Spirit Dreaming reveals how the birth of a global consciousness of healing depends upon our commitment to individual and collective spiritual evolution. Calling us back to our shamanic heritage of a living nature spirituality, this manual offers much needed guidance on the essential journey back to an intimate love of Earth.
Praise For Earth Spirit Dreaming: Shamanic Ecotherapy Practices…
"As climate catastrophe forces us to confront a world dangerously out of balance, there is a vital need to reconnect with the deep wisdom of the Earth. Our common home is not a resource to be exploited but a living magical being who needs our love and attention. Elizabeth Meacham returns us to our shamanic heritage, awakening us to our embodied spiritual intelligence. With simple but powerful practices she shows how to bring light and healing to our suffering planet and become co-creators of a new dream for humanity and the Earth. Earth Spirit Dreaming offers valuable tools to re-vision a world both whole and holy, a gateway to the love and joy and truth to be found as we become more firmly rooted in the Earth."
— LLEWELLYN VAUGHAN-LEE, Ph.D., teacher, author, Sufi mystic, and editor of Spiritual Ecology: The Cry

"This precious book will help you rediscover, or perhaps uncover for the first time, your vital connection to our endangered, though still enchanted, Earth. Inspired by traditional wisdom, leading-edge science, and ecosophical thought, the simple but profound exercises lead one out of the spiritual wasteland of the industrial growth society and into an experience of the deeper ecological self, a self as ancient as the seasons and rooted in the nourishing cycles of life."
— SEAN KELLY, Ph.D., philosopher, professor, and author of Coming Home: The Birth and Transformation o

"It's almost cliché to realize that reconnecting to the Earth is of paramount importance if humanity--or some significant portion thereof--is to survive and thrive into the next century. But an intellectual realization is only a first step. We need to practice having an ongoing felt sense of this connection. Elizabeth Meacham offers a dazzling, just-in-the-nick-of-time collection of practices to do just that."
— BILL PFEIFFER, founder and director of the Sacred Earth Network, and author of Wild Earth, Wild Soul

"While reading the book, I felt as if I was taking a college level course. The ideas and sections are complex and I found myself re-reading some of the material to get a true understanding. This is not a light read and dives deep into the earth and these shamanic like practices. The author provides plenty of exercises in each type of practice. The goal is to connect to the Earth and help you on your healing journey. The book is written for those well versed in new age vibrational healing and takes some time to study. This guide is a deep dive into the world of healing vision so be prepared to spend the time and study!" -
— Amber Barnes, FacingNorth.net

"Exceptionally well written, organized, and presented, Earth Spirit Dreaming is an extraordinarily informative and unreservedly recommended addition to both community and academic library Shamanic and Gaia-based collections and supplemental studies reading lists. It should be noted for students, academia, and non-specialist general readers with an interest in the subject."
— Midwest Book Review
Findhorn Press, 9781620559871, 224pp.
Publication Date: February 4, 2020
About the Author
Elizabeth E. Meacham, Ph.D., is an environmental philosopher, teacher, healer, spiritual mentor, and musician. She is the founder and codirector of the Lake Erie Institute for Holistic Environmental Education. Her workshops and training courses offer initiatory experiences that reflect her long-term engagement as a student of the Earth and Cosmos. She lives in Cleveland, Ohio.

Christopher M. Bache is professor emeritus in the Department of Philosophy and Religious Studies at Youngstown State University where he taught for 33 years. A Fellow at the Institute of Noetic Sciences, he is also adjunct faculty at the California Institute of Integral Studies and on the advisory board for Grof Transpersonal Training and the Grof Foundation. An award-winning teacher and international speaker, he is the author of 3 books and lives in Poland, Ohio.