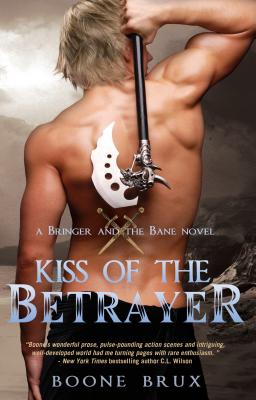 Kiss of the Betrayer (Bringer and the Bane #2) (Paperback)
Entangled: Select, 9781620610350, 400pp.
Publication Date: December 11, 2012
* Individual store prices may vary.
Description
Jade Kendell made a promise to find Luc Le Daun, and kill him. It's an act of pure and simple vengeance for her sister?or what's left of her sister's soul as it sinks further into the realm of the Bane. Demons. Only killing Luc Le Daun isn't as easy as Jade thought.
Luc spent fifteen years hiding from what he was...and what he did. Against his wishes, he's been brought to his destiny, and is now a full-power Bringer?imbued with mystical powers with which he must protect humankind. Worse still, he's been partnered with the woman who tried to kill him in order to embark on a journey into the Shadow World.
There, in the midst of death, danger, and darkly-kept secrets, Jade and Luc discover an attraction that could redeem them...or lead to unspeakable betrayal.
About the Author
Boone Brux is an award-winning writer, crafting everything from humor to dark fantasy, but has a warm spot in her heart for demons. Her novel, Shield of Fire, is out with Entangled Publishing and her stories appear in the ezines Digital Digest and Everything Erotic. She's lived in beautiful Alaska for nearly two decades and spent many of those years in the bush, where the internet and flush toilets were a luxury. Now in civilization, she's a full-time writer, spinning tales for the thirsty soul.
or
Not Currently Available for Direct Purchase