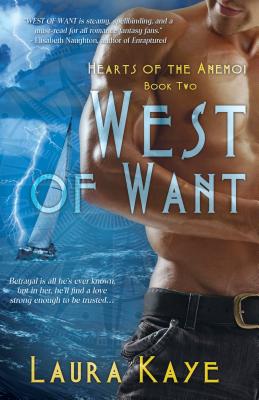 West of Want (Hearts of the Anemoi #2) (Paperback)
Entangled Select, 9781620610558, 278pp.
Publication Date: July 17, 2012
Other Editions of This Title:
Paperback (10/10/2017)
MP3 CD (11/5/2019)
Compact Disc (11/5/2019)
* Individual store prices may vary.
Description
Betrayal is all he's ever known, but in her, he'll find a love strong enough to be trusted
When Marcella Raines' twin brother dies, she honors his request to be buried at sea, never expecting the violent storm that swamps her boat. Though she's gravely injured and still emotionally damaged from her recent divorce Ella fights to survive.
Zephyros Martius is the Supreme God of the West Wind and Spring, but being the strongest Anemoi hasn't protected him from betrayal and loss. Worse, he's sure his brother Eurus is behind it. When Zeph's heartbreak whips up a storm that shipwrecks a human, his guilt forces him to save her.Ella is drawn to the vulnerability Zeph hides beneath his otherworldly masculinity and ancient blue eyes. And her honesty, empathy, and unique, calming influence leave Zeph wanting everything. When Eurus threatens Ella, she and Zeph struggle to let go of the past, defend their future, and embrace what they most want a love that can be trusted.
About the Author
Voted Breakout Author of the Year in the 2011 GraveTells Readers' Choice Awards, Laura Kaye is the best-selling and award-winning author of a half-dozen books. Hearts in Darkness is a finalist for the EPIC eBook Award for Best Novella, Forever Freed won the NJRW Golden Leaf Award for Best Paranormal of 2011, and North of Need, the first book in the Hearts of the Anemoi series, was named GraveTells' Best Book of 2011 and won their 5-STAR Gold Heart Award, and won Sizzling Hot Read of the Year at Sizzling Hot Books. She grew up around a large extended family who believed in and regularly told stories about their own personal encounters with the supernatural. Family lore involving angels, ghosts, and evil-eye curses cemented in Laura a life-long fascination with the supernatural and the world of fantasy. Laura was an avid reader and writer from childhood--at fourteen, she hand wrote a 50-notebook-page paranormal take on The Secret Garden; at sixteen, her time travel historical short story, Peter Save The Tsar, won an award from the county Board of Education. As an adult, new dreams and pursuits overshadowed these earlier interests in fiction writing, and it was years before the storyteller in her soul demanded to be heard. Since awakening, Laura's inner muse has insisted on making up for lost time by whispering ideas for new stories and new characters into her ear faster than she can write them--but she wouldn't have it any other way! A published non-fiction author, Laura's "real" work as an historian and training as an archaeologist help her create vivid and accurate portrayals of other times and places. Laura lives in Maryland with her husband, two daughters, and bad dog, and appreciates her view of the Chesapeake Bay every day.
Praise For West of Want (Hearts of the Anemoi #2)…
Praise for Hearts of Anemoi

Four stars. This is a fascinating, magical tale of the way our loved ones can watch over us after they're gone. An interesting group of gods and their subjects are introduced. The ending is a delight."
- Susan Mobley, RT Book Reviews

Using ancient winter mythology as an allegory for grief, Kaye has written a sexy story that packs a powerful emotional punch. With a heroine you can root for and a hero who is a dream come true, NORTH OF NEED is pure winter magic and Kaye's sparkling talent warms the heart."
- Stephanie Draven, author of the MYTHICA series

GraveTells Fave, Book of the Month (December) & 5-STAR Gold Heart Winner

Top Read of 2011 (tied for 1st with Julie Kagawa's The Iron Knight), and Paranormal Book of the Year, GraveTells

Sizzling Hot Book of the Year, Sizzling Hot Book Reviews

Nominated for EIGHT 2011 GraveTells Readers' Choice Awards: Favorite Book, Best Cover Art (Runner up!), Sexiest Story (Runner Up!), Most Compelling Hero, Most Kick-Ass Heroine, Favorite Author of 2011 (3rd!) & Breakout Author of 2011 (WON!)
or
Not Currently Available for Direct Purchase