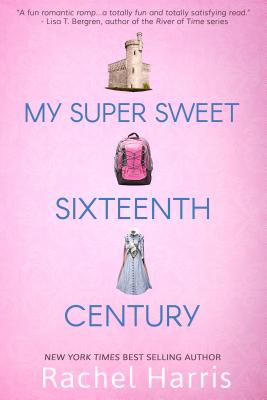 My Super Sweet Sixteenth Century (Paperback)
Entangled: Teen, 9781620611357, 304pp.
Publication Date: September 18, 2012
Other Editions of This Title:
Paperback (2/7/2017)
* Individual store prices may vary.
Description
"Fresh and funny, Harris's detail-rich writing makes for a truly charming debut novel." —Holly Schindler, author of Playing Hurt
On the precipice of her sixteenth birthday, the last thing lone wolf Cat Crawford wants is an extravagant gala thrown by her bubbly stepmother and well-meaning father. So even though Cat knows the family's trip to Florence, Italy, is a peace offering, she embraces the magical city and all it offers. But when her curiosity leads her to an unusual magical tent, she exits . . . right into Renaissance Firenze.
Thrust into the sixteenth century armed with only a backpack full of contraband future items, Cat joins up with her ancestors, the sweet Alessandra and protective Cipriano, and soon falls for the gorgeous aspiring artist Lorenzo. But when the much-older Niccolo starts sniffing around, Cat realizes that an unwanted birthday party is nothing compared to an unwanted suitor full of creeptastic amore. Can she find her way back to modern times before her Italian adventure turns into an Italian forever?
The My Super Sweet Sixteenth Century series is best enjoyed in order.
Reading Order:
Book #1 My Super Sweet Sixteenth Century
Book #2 A Tale of Two Centuries
Book #3 My Not So Super Sweet Life
About the Author
Rachel Harris is also the author of My Super Sweet Sixteenth Century, A Tale of Two Centuries, and the Love and Games romance series for adult readers. When she's not typing furiously or flipping pages in an enthralling romance, you can find her homeschooling her two beautiful princesses, hanging out with her amazing husband, or taking a hot bubble bath...next to a pile of chocolate.
www.rachelharriswrites.com
Praise For My Super Sweet Sixteenth Century…
From the Book

I bunch the soft fabric of the dress in my hand and then reach up to feel the ribbon in my hair. I lightly skim my hand over my chin and feel my lack of zit. I take in the costumes of the crowd, the stench of the animals, and the Italian I can now speak and understand. And suddenly it hits me.

Reyna pulled some gypsy mojo.

This must be one of those nifty twenty-four hour, 'change your life' magic scenarios like in the movies. That explanation is infinitely better than assuming I've lost my mind. My frantic tension melts away and a smile stretches across my face.

The growing crowd seems to notice my change in demeanor and begin shooting each other amused looks, but I no longer care. I was wrong earlier; Reyna is a psychic mind reader, because this is my exact daydream from earlier in the courtyard come to life.

The long red gown, the braided hair, the Italian merchant daughter, the time period. I am in Renaissance Florence!

Cane man clears his throat and points toward the carriage again. I glance at my surroundings with new eyes and suddenly remember Reyna's words. It's as if they float in the air around me. "Caterina, a great adventure is in store for you."

There's no way I'm letting this adventure pass me by without reveling in it. Gypsy's orders. I mean, part of me wishes Dad could come along—he'd probably come back with killer ideas for a new historical or something—but an extra day without Jenna? Twenty-four whole hours of not feeling like I'm the third wheel in my own family? Sign me up for that kind of gypsy voodoo.


"This must be one of those nifty twenty-four hour, 'change your life' magic scenarios like in the movies. That explanation is infinitely better than assuming I've lost my mind. My frantic tension melts away and a smile stretches across my face." — from the book
or
Not Currently Available for Direct Purchase