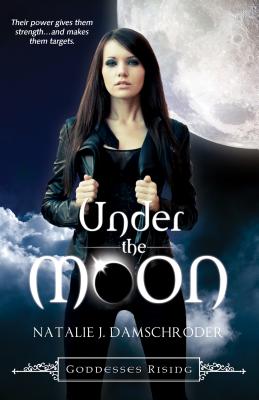 Under the Moon (Goddesses Rising) (Paperback)
Entangled: Select, 9781620612156, 352pp.
Publication Date: September 4, 2012
* Individual store prices may vary.
Description
Their power gives them strength…and makes them targets.
Quinn Caldwell is the epitome of a modern goddess. Her power source is the moon, her abilities restricted only by physical resources and lunar phase. She runs a consulting business and her father's bar, serves on the board of the ancient Society for Goddess Education and Defense, and yearns for Nick Jarrett, professional goddess protector and the soul mate she can never have.
But someone has developed the rare and difficult ability to drain a goddess of her powers, and Quinn is a target. With the world thinking Nick has gone rogue (whatever that means) and that Quinn is influenced by "family ties" she didn't know she had, keeping themselves safe while working to find the enemy proves harder each day.
But not as hard as denying their hearts…
About the Author
Natalie J. Damschroder came to writing the hard way—by avoiding it. Though she wrote her first book at age six (My Very Own Reading Book) and received accolades for her academic writing (Ruth Davies Award for Excellence in Writing for a paper on deforestation her senior year in college), she hated doing it. Colonial food and the habits of the European Starling just weren't her thing.
She found her niche—romantic fiction—shortly after college graduation. After an internship with the National Geographic Society, customer service for a phone company just wasn't that exciting. So she began learning how to write the books she'd loved to read all her life. Now she struggles to balance her frenetic writing life with her family, the most supportive husband in the world and two beautiful, intelligent, stubborn, independent daughters (the oldest of whom has become a writer). She somehow also fits in a day job and various volunteer positions in and out of the writing industry.
Praise For Under the Moon (Goddesses Rising)…
"Under the Moon was a good start to the Goddesses Rising series. It's got action, romance, mystery, AND a pretty badass heroine. What's not to like about that?" Grave Tells

"Wow, Under the Moon is a great book. It grabs you at the beginning and doesn't let go until the very last page. The action is non-stop, the plot is full of twists and the tension is palpable. I also liked the fact that, although there are quite a few characters in the book, they were given enough time and backstory for you to grasp who they were before the story carried on, meaning you genuinely cared about them and what would happen." Lucy Felthouse

"...overall this book had everything I look for in a book, characters I can connect with, action and maybe just a bit of smexyiness. Though as most of you know I am a sucker for a good romance and while this book leaned more towards the action it still had the romance I crave sometimes. I can't wait for book 2 in this series..." Book Lover's Hideaway

"Natalie did a brilliant job in establishing each character and the world they live in. The lore behind goddesses walking amongst us and gods being practically extinct was quite interesting. Enjoyed it immensely. I'm looking forward to reading more of this series soon. Truly recommend it." Lissette E. Manning

"Intense emotional story with a great paranormal plotline that just kept giving." Nicole, Romance Books Forum

"An enjoyable read with a deliciously alpha protector our to ensure his goddess stays safe." Shannon, Cocktails and Books

"What a good book, hard to put down, if you put it down. An excellent combination of characters keeps things tense all the way through. The trio's banter is witty and quite comical at times, and the author keeps throwing curve balls to spice things up. I'm looking forward to the next episode!" Wanda Plourde, Bookloons

"Under the Moon was an enjoyable read with a fast-moving plot full of suspense and sexual tension. The story reminded me a bit of Rachel Caine's Weather Warden series, the way it was set up... A good amount of action will keep your turning the pages as well. Overall, Under the Moon was a good read that I'd recommend to anyone who enjoys urban fantasy with a touch steamy." Reading Between the Wines Book Club

"There was a good mix of action and and downtime where the characters were racing to find out what happened to each individual goddess, and how each character fit into their own place within the plot. Also, things weren't just handed away like they are in so many other stories. You were given a chance to figure it out on your own with the characters. As the characters were lead one way, you were lead that way, believing it could be one person when a chapter later you were presented with another aspect that had you believing it was someone else. It was not predictable which is very refreshing!" Scrawled in Blue

"The world building was full of great explanations and imaginative powers. I loved the whole Goddess storyline. I liked meeting the different goddesses and hearing about what they could do. The action was not lacking. There were plenty of scenes that had my heart beating and had me wondering how the trio would get out of a particular situation. The ending wraps everything up nicely and I'm looking forward to reading what comes next." Stacy at Urban Fantasy Investigations

"The story builds to a sizzling climax (literally) and a very satisfying conclusion. I loved this book, give it 5 stars and recommend it for all lovers of urban fantasy and romance." Tahlia Newland


"All in all, I found this to be a good read with lots of potential! I'm looking forward to reading more in this series in the future. This was my first read on my Kindle Fire and it was a great experience (although I do think I will always prefer an actual book). Recommended to fans of paranormal romance!" Booked on a Feeling
or
Not Currently Available for Direct Purchase