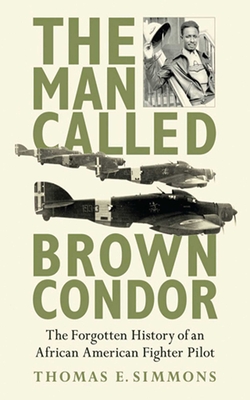 The Man Called Brown Condor (Hardcover)
The Forgotten History of an African American Fighter Pilot
Skyhorse, 9781620872178, 320pp.
Publication Date: February 7, 2013
* Individual store prices may vary.
Description
How did a black child, growing up in segregationist Mississippi during the early 1900s, become the commander of the Imperial Ethiopian Air Corps during the brutal Italo-Ethiopian War of 1935? In this gripping, never-before-told tale, biographer Thoma
About the Author
Thomas E. Simmons grew up in Mississippi and attended the Marion Military Institute, the U. S. Naval Academy, the University of Southern Mississippi, and the University of Alabama. He served as commercial captain of a seventy-foot sailing vessel, has been a pilot since the age of sixteen, has flown professionally, and participated in air shows flying aerobatics in open-cockpit biplanes. In 1960, he served as an artillery officer in Korea. He and his wife live in Gulfport, Mississippi.
Praise For The Man Called Brown Condor: The Forgotten History of an African American Fighter Pilot…
"[Robinson's] lifelong triumph over adversity belongs to the greatest of American success stories." —Peter Hannaford, Washington Times

"The story of John C. Robinson, born in segregated Mississippi at the turn of the century, and his remarkable story of not just becoming a pilot but rising to become the commander of the Ethiopian Air Force during the Italo-Ethiopian War of 1935." —Publishers Weekly

"Simmons spent over 20 years researching the remarkable life of John D. Robinson, who rose from segregationist Mississippi to become a distinguished pilot, founder of the Tuskegee Institute's school of aviation, a bold defender of Ethiopia during the 1935 Italian invasion, and, finally, founder of the Ethiopian Air Force." —Library Journal

"An inspiring affirmation that celebrates the old adage that where there's a will, there's a way, even against seemingly impossible odds." —Kirkus Reviews

"[Robinson's] lifelong triumph over adversity belongs to the greatest of American success stories." —Peter Hannaford, Washington Times

"The story of John C. Robinson, born in segregated Mississippi at the turn of the century, and his remarkable story of not just becoming a pilot but rising to become the commander of the Ethiopian Air Force during the Italo-Ethiopian War of 1935." —Publishers Weekly

"Simmons spent over 20 years researching the remarkable life of John D. Robinson, who rose from segregationist Mississippi to become a distinguished pilot, founder of the Tuskegee Institute's school of aviation, a bold defender of Ethiopia during the 1935 Italian invasion, and, finally, founder of the Ethiopian Air Force." —Library Journal

"An inspiring affirmation that celebrates the old adage that where there's a will, there's a way, even against seemingly impossible odds." —Kirkus Reviews