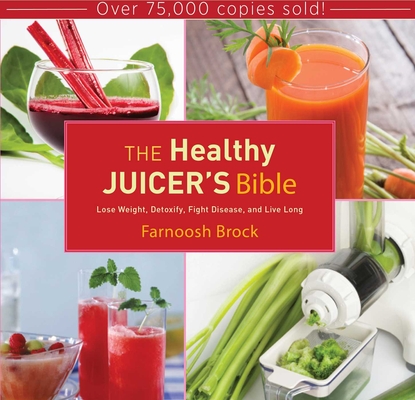 The Healthy Juicer's Bible (Hardcover)
Lose Weight, Detoxify, Fight Disease, and Live Long
Skyhorse Publishing, 9781620874035, 288pp.
Publication Date: March 6, 2013
* Individual store prices may vary.
Description
"Don't juice without it " - One of over 150 *FIVE STAR* Amazon Reviews In addition to over 50 easy and delicious recipes, green juice expert Farnoosh Brock talks you through countless situations, including: How will your body will react to green juicing with a sensitive stomach?
How can you stay motivated after the initial excitement wears off?
What are the best juicers available, and which one is best for you? A passionate green juicer for over five years, Brock gives you her best tips on how to manage each as you move forward in this journey. She shares her knowledge, discoveries, and lessons learned from her years of green juicing She gives you the good, the bad, and the ugly so you can make smart and informed decisions as you learn how to heal your body and return it to harmony using healthy plants from your farmer's market, garden, or produce aisle. In this widely praised juicing recipe book and guide, every fruit and vegetable you can think of pairs up in this juice bible for devoted followers of the juice craze that's sweeping the nation. From radical-fighting blueberries to nutrient-rich kale, to protein-packed spinach, The Healthy Juicer's Bible includes nutritional information and details on the benefits of juicing for life Whatever your fitness regimen, health goals, or daily routine, The Healthy Juicer's Bible is the ultimate, comprehensive resource for every aspect of the wonderful world of juicing.
About the Author
Farnoosh Brock left her long career at a Fortune 100 technology corporation to start her own company, Prolific Living Inc., to pursue her life's work through writing, creating, and speaking. Her goal is to help you achieve freedom in both your health and your profession through the systems and techniques that she has built. She's also an expert green juicer, an Ashtanga yogini, an amateur photographer, and a devout world traveler. Following the success of The Healthy Juicer's Bible, Brock wrote The Healthy Smoothie Bible. Both continue to be favorites in the juicing and smoothie community.