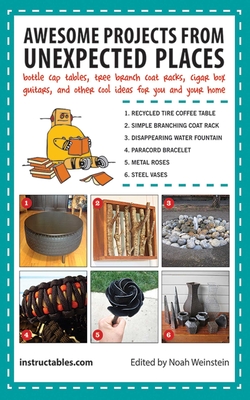 Awesome Projects from Unexpected Places
Bottle Cap Tables, Tree Branch Coat Racks, Cigar Box Guitars, and Other Cool Ideas for You and Your Home
Paperback

* Individual store prices may vary.
Description
Awesome Projects from Unexpected Places 
features more than thirty projects designed by the users of instructables.com. These users have repurposed and reused everyday items they've found around their homes, in their backyards, or even in local junkyards to create unique furnishings and decorations for their homes and meaningful gifts for others. Equipped with the vision to not only see the latent potential and beauty in common items, but also the skills necessary to transform those objects into creative and new applications, these projects are at the core of the maker movement and can inspire us all.
Readers of
Awesome Projects from Unexpected Places
will learn how to construct:
Bottle cap tables
Concrete lamps
3D string art
Sand fire gardens
Screw-nut and wooden rings
Paracord bracelets
Cigar box guitars
Wooden beer mugs
Test tube spice racks
Metal roses
And more!
Skyhorse, 9781620877050, 224pp.
Publication Date: July 1, 2013
About the Author
Instructables.com is a bona fide Internet sensation, a web-based community of motivated do-it-yourselfers who contribute invaluable how-to guides to the site on a wide range of topics, from gardening and home repair to recipes to gadgets that defy categorization. The site hosts more than 100,000 projects. More than 15 million people visit the site each month, leaving comments and suggestions on the ever-growing list of do-it-yourself projects.

Noah Weinstein is an editor at Instructables.com, co-founder of SF Media Labs and spends time making things both big and small at his shop in Oakland, CA. He has worked as a white water rafting guide, custom speaker builder, sheep shepherd, and tractor driver. He earned a BA from Brown University where he concentrated in environmental studies and visual art.
or
Not Currently Available for Direct Purchase