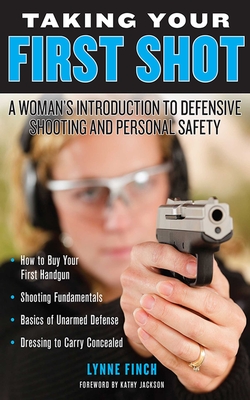 Taking Your First Shot (Paperback)
A Woman's Introduction to Defensive Shooting and Personal Safety
Skyhorse, 9781620877173, 176pp.
Publication Date: June 4, 2013
* Individual store prices may vary.
Description
Numbers don't lie; more and more women are purchasing guns and learning to shoot! While shooting used to be a male-dominated sport, women across the country have begun discovering that a trip to the range not only is relaxing, but also brings with it a sense of strength and empowerment. Taking Your First Shot is an introductory guide perfect for either those stepping out onto the range for the first time or those looking to brush up on their skills. Author Lynne Finch coaches women on the decision to learn to shoot, how to find formal training, selecting and purchasing a handgun, defensive versus practice ammunition, storing and caring for your gun, and concealed carry options.

Along with learning the shooting basics, Finch also teaches readers the importance of situational awareness and the basics of self-defense. Sometimes a gun isn't always an answer, and it's important to have a proportional response to the situation. Finch begins with teaching readers how to become aware of their surroundings, what to watch for, and how to respond. From there, she goes on to define proportional response and why carrying pepper spray, a kubotan, or even a whistle can make all the difference.

Learning to shoot is a personal decision, but with the proper training and practice, shooting can become both an enjoyable and liberating sport.
About the Author
Lynne Finch holds multiple NRA instructor credentials, including Refuse to be a Victim, as well as being a SabreRed Pepper Spray instructor. and a Defensive Firearms Coach. Her first book, Taking Your First Shot, addressed defensive shooting for women. In her second book she continues talking about safety by including ideas and tips for keeping you and your family out of harm's way. Her third book, Female and Armed addresses more advanced defensive techniques. Finch authors a popular blog FemaleandArmed, as well as being a contributing writer for Gun Shows Today and Combat Handgun Magazine. Finch's training company, Female and Armed, is located in Northern Virginia where she resides with her two adorable rescue cats, Rhiannon and Cinnia.