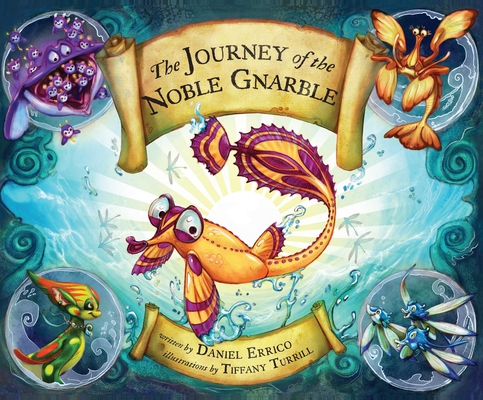 The Journey of the Noble Gnarble (Hardcover)
Sky Pony Press, 9781620877326, 32pp.
Publication Date: August 1, 2013
* Individual store prices may vary.
Description
The gnarble wants nothing more than to swim up above the waters to see the blue sky, but gnarbles don't have flappers like blyfish do, and gnarbles don't even have koggers like the swimming gungaloo But though gnarbles never swim so high, this particular gnarble is determined to see the sunlit sky. He swims past spongy gishy-gosh and feeding fipple-fosh, but who would think the little gnarble could pass the hungry warckel, subbaubble, and--most dangerous of all--the evil plink?
Daniel Errico's charming nonsense rhymes and Tiffany Turrill's vivid, expressive iillustrations combine beautifully in this entertaining story of a little fish on a big mission. Kids will giggle aloud at crazy creatures with names like gishy-gosh and glimmy glins; parents will love snuggling up with their children to read about the little gnarble's escapades in this wacky world of silly sea creatures. Join the little gnarble on his unforgettable journey from the ocean floor to the shining sun