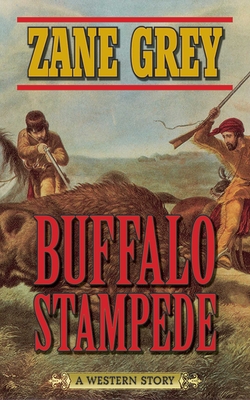 Buffalo Stampede
A Western Story
Paperback

* Individual store prices may vary.
Description
On his first trip out West, Zane Grey became friends with Buffalo Jones, the "last of the plainsmen" as he called him. Jones had been witness to the great herds of buffalo that had once ranged on the Great Plains, and he had been a participant in the hunts that led to their destruction. In early 1923, Grey decided that he would write the epic story of the thundering herds of buffalo, the great hunt that decimated them, and the battle between the Plains Indians and the buffalo hunters.

When he completed his manuscript he sent it to the editors of Ladies' Home Journal, who had agreed to buy it. Grey was asked to make extensive changes in the structure and tone of the story, and once these changes were made, the story was as decimated as the great buffalo herds. Fortunately, the original manuscript survived and is presented here in Buffalo Stampede as Grey intended it to be.

At last, Zane Grey's magnificent panorama of the war for and against the buffalo has been restored, with its violent and furious action and tone of elegiac sadness for the passing of those mighty, noble herds.
Skyhorse, 9781620878231, 320pp.
Publication Date: September 3, 2013
About the Author
Zane Grey was born on January 31, 1872, in Zanesville, Ohio. He was best known for his popular adventure novels and stories which presented an idealized image of the American frontier. The critically acclaimed Riders of the Purple Sage (1912) has become one of the bestselling and most popular books of all time. More than one hundred films, television episodes, and program series, including Dick Powell's Zane Grey Theater, have been based on his novels and short stories. He died on October 23, 1939, at his home in Altadena, California.
or
Not Currently Available for Direct Purchase