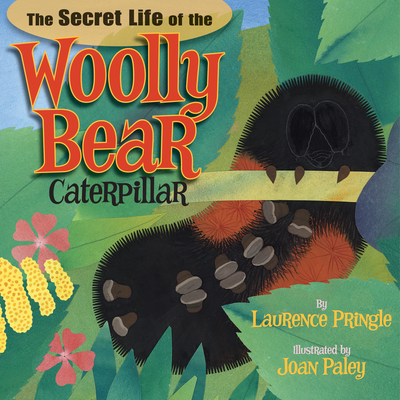 The Secret Life of the Woolly Bear Caterpillar
Hardcover

* Individual store prices may vary.
Description
Kids often spot woolly bear caterpillars creeping across the ground in fall, but these furry-looking creatures seem to disappear as quicklyas they pop up. Where do they come from in autumn, and where do theygo? In fact, they live throughout North America all year long. In vividstorytelling style, Laurence Pringle uncovers the secret life of the woollybear caterpillar, following one caterpillar as she feasts, tiny and hidden, inthe tall summer grass; molts and grows; then sets off on the fall journeywhere she's most likely to be seen. Packed with surprising details (did you know that woolly bears can survive freezing temperatures by producinga natural antifreeze?), this book will appeal to every child who's been luck yenough to spy one of these beloved caterpillars—and to anyone who'd like to.
Praise For The Secret Life of the Woolly Bear Caterpillar…
"The author of more than 100 children's books looks closely at a familiar creature. Naming but not otherwise anthropomorphizing this stealthy survivor, Pringle follows Bella the woollly bear through a "jungle of grasses, clovers, and wild flowers . . . Paley's colorful cut-paper and mixed-media illustrations show off Bella and her neighbors nicely . . . Straightforward and informative." --Kirkus Reviews

"Pringle (Scorpions!, 2013) informatively narrates the life of a banded woolly caterpillar called Bella, so named for its species, the Isabella tiger moth. . . Each page presents plenty of material for discussion, and an afterword offers more information on banded woolly caterpillars and a glossary of terms used in the text . . . " --Booklist

"In this picture-book equivalent of watching a nature documentary, Bella, a woolly bear caterpillar eats, molts, and eats again in a months-long journey through forests, gardens, and lawns. . . Colorful cut-paper drawings bring Bella and her world to life, emphasizing the texture of her fuzzy-looking black-and-orange body and gloriously displaying the wingspan of the tiger moth she becomes. Further information and a diagram of a woolly bear caterpillar are included in the back matter, all the better to satisfy insect-loving readers." --School Library Journal
Boyds Mills Press, 9781620910009, 32pp.
Publication Date: April 1, 2014
About the Author
Laurence Pringle has written over 100 books for children, including BMP's Billions of Years, Amazing Changes and nine titles in the popular Strange and Wonderful series. Internationally, his books have sold more than three million copies. He is the recipient of Orbis Pictus Honor Award and a Lifetime Achievement Prize from the American Association for the Advancement of Science, and his work consistently receives recognition from the National Science Teachers Association and the National Council of Teachers of English. He lives in West Nyack, New York. Visit laurencepringle.com.

Joan Paley has been illustrated many children's books including Star of the Sea by Janet Halfmann and The Emperor Lays an Egg by Brenda Z. Guiberson, which was a School Library Journal Best Book. She lives in Florida.