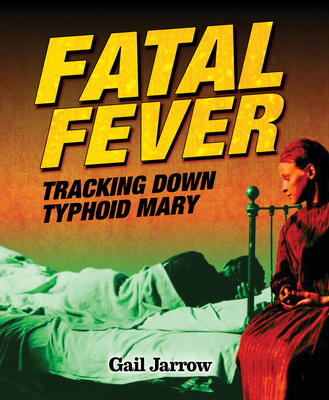 Fatal Fever (Hardcover)
Tracking Down Typhoid Mary
Calkins Creek, 9781620915974, 192pp.
Publication Date: March 10, 2015
* Individual store prices may vary.
Description
In March 1907, the lives of three remarkable people collided at a New York City brownstone where Mary Mallon worked as a cook.
They were brought together by typhoid fever, a dreaded scourge that killed tens of thousands of Americans each year. This gripping story reveals the facts behind of the woman who unwittingly spread deadly bacteria, the epidemiologist who discovered her trail of infection, and the health department that decided her fate. Young readers will be on the edges of the seats wondering what happened to Mary and the innocent typhoid victims. With glossary, timeline, list of well-known typhoid sufferers and victims, further resource section, author's note, and source notes.
About the Author
Gail Jarrow's nonfiction books have received numerous awards and distinctions, including a Robert F. Sibert Informational Honor, YALSA Award Nomination, Orbis Pictus Recommended Book, National Science Teachers Association Recommended Book, Kirkus Reviews Best Book, and a VOYA Honor Book. She lives in Ithaca, New York.
Praise For Fatal Fever: Tracking Down Typhoid Mary…
★ "The writing is lucid, well organized, and informative. The book's large format allows for excellent reproductions of the many period photos, prints, and documents. Readers who are curious about Typhoid Mary . . . will find this an absorbing account of what actually happened." —Booklist, starred review

★ "Jarrow follows Red Madness with a second captivating book in her planned trilogy on deadly diseases. . . . Replete with archival photos, this thorough account brings readers to the present day and modern medicine's fight against what is still a scourge in many countries." —Publishers Weekly, starred review

★ "A nonfiction page-turner relying upon extensive research and copious source notes, this is a fantastic addition to any library." —School Library Journal, starred review

★ "An unusually attractive design incorporates many photographs, such artifacts as posters and cartoons, and sidebars. More than a chronological account, this exploration pays tribute to the power of public health measures and raises questions about the ethics of protecting the public by quarantining someone like Mallon, who sued for her freedom. A top-notch addition to the popular topic of deadly diseases." —Kirkus Reviews, starred review