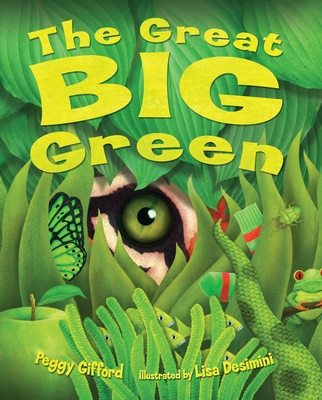 The Great Big Green (Hardcover)
Boyds Mills Press, 9781620916292, 32pp.
Publication Date: April 1, 2014
Description
Just what exactly is the "thing"? It is green--great and gorgeous green, dark and dangerous green, real mean green. And it's got green things--broccoli and praying mantises, watermelons and waves of mountains. It's green, green, green all over . . . except where it's blue. The Great Big Green is, of course, our earth. Both a riddle and an ode to the earth, this ingenious picture book arrives just in time for Earth Day. Perfect for budding environmentalists and lovers of poetry alike, this irresistible read-aloud by Peggy Gifford is illustrated with an astonishing mix of collage and painting by Lisa Desimini. Readers will revisit the gorgeous world over and over after the riddle's reveal to find the many green things hidden in each piece of art.

About the Author
Peggy Gifford is the author of the Moxy Maxwell series. Moxy Maxwell Does Not Love Stuart Little and Moxy Maxwell Does Not Love Writing Thank-You Notes were both Kirkus Reviews Best Books of the Year. She graduated from the Iowa Writer's Workshop with an emphasis in poetry. Her poems have appeared in The Antioch Review, The Iowa Review, The Mississippi Review, and Cosmopolitan magazine, among others. She lives in New York City. Visit peggygifford.com.Lisa Desimini is an award-winning illustrator of over thirty books for children. She has written nine books including, My House, one of the NY Times Ten Best Illustrated Books of the Year and Dot the Fire Dog, which has sold over 400,000 copies. She lives in Northport, New York. Visit lisadesimini.com.
Advertisement