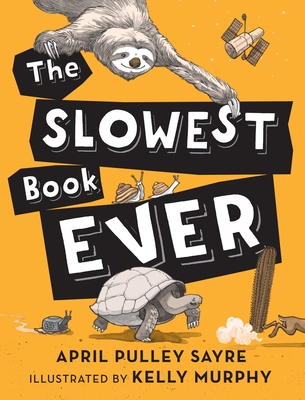 The Slowest Book Ever (Hardcover)
Boyds Mills Press, 9781620917831, 176pp.
Publication Date: April 5, 2016
* Individual store prices may vary.
Description
April Pulley Sayre's wry, quirky storytelling tone shines from the warning on the first page ("This is a S-L-O-W book. Do not read it while surfing, water skiing, or running to escape giant weasels.") right through to the glossary at the end. In between, readers will explore an astounding variety of information about all things slow—in nature, geology, art, outer space, etc. Throughout, The SLOWEST Book EVER playfully encourages readers to slow down and savor everything. As Sayre shows: "If you think slowly enough, the entire world is amazing." This innovative nonfiction work is a treasure trove of information that begs for multiple readings.
About the Author
April Pulley Sayre is an award-winning author of over 55 natural history books for children and adults, including the popular Rah, Rah, Radishes!, Stars Beneath Your Bed (an ALA Notable Book), Eat Like a Bear (an ALA Notable Book), and Vulture View (a Geisel Honor book). Sayre and her husband live in South Bend, Indiana. Visit aprilsayre.com.

Kelly Murphy has illustrated numerous picture books and chapter books, including Face Bug, the New York Times Best Seller Masterpiece, and the Nathaniel Fludd, Beastologist book series. She teaches at the Rhode Island School of Design and lives in Providence, Rhode Island.
Praise For The Slowest Book Ever…
"Sayre beckons kids to investigate and ruminate on slow-moving animals, slow-growing plants, slow motion, and plenty more. She covers expected topics, such as the centuries-old sequoia tree, the land snail, and slow-forming geologic wonders like the Grand Canyon. But refreshing, often fleeting twists of topic, delivered with repeated exhortations for kids to slow down, ponder, and study, combine for a galloping volume that respects children as capable scientific thinkers. In loosely arranged sections, the author adopts a conversational style to both inform and amuse curious students.... engaging. And chewy!" —Kirkus Reviews

"Science and nature rub shoulders with pop culture and history in Sayre's ode to slowness.... The tone is humorous but never silly, and the facts are backed up with sources and more details in the endnotes. The light tone and engaging writing are perfectly complemented by the pen-and-ink drawings that accompany every entry, and the design invites lingering and sharing. Students will love picking up and carrying this volume around to read and think about in free moments." —School Library Journal

"In this age of fast food, fast cars, and fast technology, Sayre urges readers to slow down.... she presents unusual facts and commentary about some of the slowest creatures and phenomena on the planet and beyond.... accompanied by lively orange illustrations that keep readers awake, the author encourages children to take on a slower pace in life by being more observant, thoughtful, and creative.... Speed readers not welcome." —Booklist

"For kids accustomed to a fast-moving world, this celebration of slowness may be just the ticket....Presenting big concepts in an inviting, eye-catching format, Sayre leaves readers with the message that 'if you think slowly enough, the entire world can be amazing." –Publishers Weekly