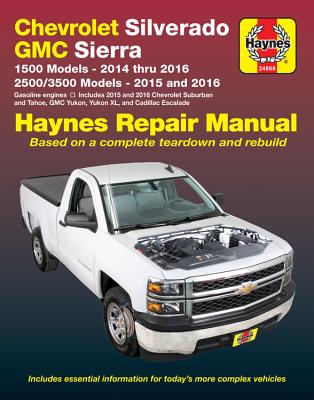 Chevrolet Silverado & GMC 1500 Pick-ups (14-16) & 2500/3500 Pick-ups (15-16) including 2015 & 2016 Suburban, Tahoe, GMC Yukon/Yukon XL & Cadillac Escalade (Paperback)
Does not include 2014 Chevrolet Silverado/GMC Sierra 2500/3500 models or 2014 SUV models, or information specific to diesel engine models. (Haynes Automotive)
Haynes Manuals N. America, Inc., 9781620922545, 416pp.
Publication Date: March 1, 2017
* Individual store prices may vary.
Description
With a Haynes manual, you can do-it-yourself...from simple maintenance to basic repairs. Haynes writes every book based on a complete teardown of the vehicle.  Whether you are a beginner or a pro, you can save big with Haynes! This manual includes all you need to know to maintain and repair your Chevrolet Silverado & GMC 1500 Pick-ups (14-16) & 2500/3500 Pick-ups (15-16) including 2015 & 2016 Suburban, Tahoe, GMC Yukon/Yukon XL or Cadillac Escalade. It does not include information for 2014 Chevrolet Silverado/GMC Sierra 2500/3500 models or 2014 SUV models, or information specific to diesel engine models.
About the Author
Haynes Publishing is the worldwide leader in automotive and motorcycle repair, maintenance and customizing manuals. Every manual is written from hand-on experience based on a complete teardown of the machine, which is the step-by-step procedure of dismantling a particular vehicle part-by-part. This is followed by the detailed rebuilding of the model. Hundreds of photos accompany each manual's step-by-step instructions.