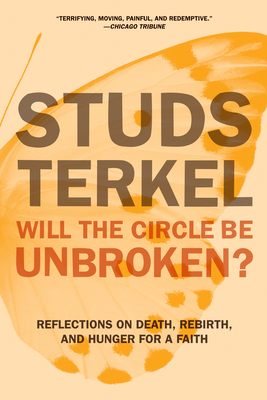 Will the Circle Be Unbroken?
Reflections on Death, Rebirth, and Hunger for a Faith
Paperback

* Individual store prices may vary.
Other Editions of This Title:
Paperback (11/26/2002)
Paperback (3/7/2002)
Hardcover (10/1/2001)
Description
One of Studs Terkel's most important oral histories, Will the Circle Be Unbroken? turns to the ultimate human experience--that of death. Called "extraordinary...a work of insight, wisdom, and freshness" by the Seattle Times when it was first published fifteen years ago, the book explores--with unrivaled compassion and wisdom--the indelible variety of reactions to mortality and the experience of death and the possibility of life afterward. Here a wide range of people addresses the unknowable culmination of our lives and its impact on the way we live, with memorable grace and poignancy. Included in this remarkable treasury of oral history are Terkel's interviews with such famed figures as Kurt Vonnegut and Ira Glass as well as with a range of ordinary people, from policemen and firefighters to emergency health workers and nurses, who confront death in their everyday lives. Whether a Hiroshima survivor or an AIDS caseworker, a death-row parolee or a woman who emerged from a two-year coma, these interviewees offer tremendous eloquence as they deal with a topic many are reluctant to discuss openly and freely. Rich, moving, and inspiring, Will the Circle Be Unbroken? is a stunning capstone to Terkel's extraordinary career. Only Terkel, whom Cornel West called "an American treasure," could have elicited such honesty and grace from people reflecting on the lives they have led and what lies before them still.
New Press, 9781620970119, 407pp.
Publication Date: October 1, 2014
About the Author
Studs Terkel (1912-2008) was the bestselling author of twelve books of oral history, including Hope Dies Last, Working, Race, and the Pulitzer Prize-winning The Good War (all available from The New Press). He was the recipient of numerous honors and awards, including a Presidential National Humanities Medal and the National Book Foundation Medal for Distinguished Contribution to American Letters.