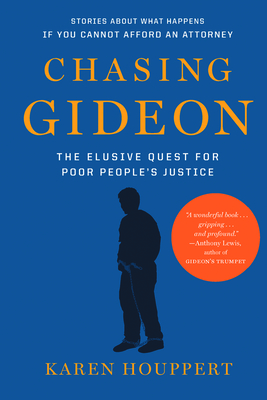 Chasing Gideon (Paperback)
The Elusive Quest for Poor Peoplea's Justice
New Press, 9781620970263, 288pp.
Publication Date: February 3, 2015
* Individual store prices may vary.
Description
First published to mark the fifty-year anniversary of the Supreme Court decision Gideon v. Wainwright, which guaranteed the right to legal counsel for all criminal defendants, Chasing Gideon is "a hugely important book" (New York Law Journal) that gives us a visceral, unforgettable experience of our systemic failure to fulfill this basic constitutional right. Written in the tradition of Gideon's Trumpet, by the late Anthony Lewis, this is "a book of nightmares," as Leonard Pitts wrote in the Miami Herald, because it shows that the "'justice system' too often produces the opposite of what its name suggests, particularly for its most vulnerable constituents." Following its publication, Chasing Gideon, which ACLU director Anthony Romero said "illustrates the scope and seriousness of the indigent defense crisis," became an integral part of a growing national conversation about how to reform indigent defense in America, coordinated with an HBO documentary and a website to promote the book and the movie. The effort spread news about Chasing Gideon directly to public defenders offices nationwide and drove a national conversation about what Eric Holder called the "shameful state of affairs" of indigent defense (in the Washington Post).
About the Author
Karen Houppert has written for the Washington Post Magazine, The Nation, Newsday, the New York Times, Mother Jones, the Village Voice, Salon, and many other publications. She is the author of Home Fires Burning: Married to the Military--For Better or Worse and The Cure: Confronting the Last Unmentionable Taboo--Menstruation. She lives in Baltimore, Maryland, where she teaches at Johns Hopkins University and at Morgan State University.
or
Not Currently Available for Direct Purchase