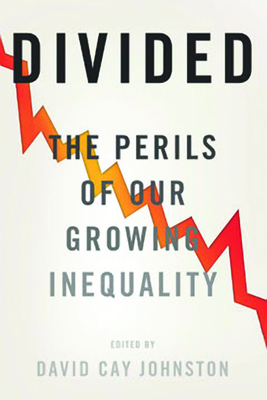 Divided (Paperback)
The Perils of Our Growing Inequality
New Press, 9781620970850, 352pp.
Publication Date: August 4, 2015
* Individual store prices may vary.
Description
Praised as a "page-turner...just the kind of spotlight that is needed" (Counterpunch) and "a potent chronicle of America's 'extreme inequality'" (Kirkus Reviews), Divided collects the writings of leading scholars, activists, and journalists--including Elizabeth Warren, President Barack Obama, Joseph E. Stiglitz, Paul Krugman, and Barbara Ehrenreich--to provide an illuminating, multifaceted look at one of the most pressing issues facing America today. According to Pulitzer Prize-winning journalist David Cay Johnston, most Americans, in inflation-adjusted terms, are now back to the average income of 1966. Shockingly, from 2009 to 2011 a third of all the increased income in a land of 300 million people went to just 30,000 of them, while the bottom 90 percent saw their income fall. Yet in this most unequal of developed nations, every aspect of inequality remains hotly contested and poorly understood. Exploring areas as diverse as education, justice, health care, social mobility, and political representation, here is an essential resource--"an indispensable guide to the causes and effects of the growing wealth gap" (World Wide Work)--for anyone who cares about the future of America and compelling evidence that inequality can be ignored no longer.

About the Author
David Cay Johnston is an investigative journalist and the winner of a 2001 Pulitzer Prize. He is the former president of the Investigative Reporters & Editors and the author of the bestselling Perfectly Legal, Free Lunch, and The Fine Print. He teaches at Syracuse University College of Law and lives in Rochester, New York.