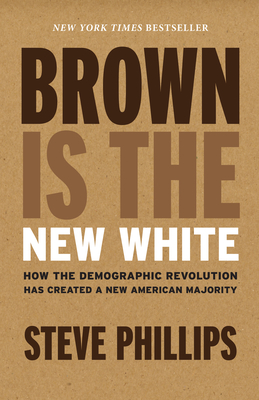 Brown Is the New White
How the Demographic Revolution Has Created a New American Majority
Hardcover

* Individual store prices may vary.
Description
NEW YORK TIMES BESTSELLER Despite the abundant evidence from Obama's victories proving that the U.S. population has fundamentally changed, many progressives and Democrats continue to waste millions of dollars chasing white swing voters. Explosive population growth of people of color in America over the past fifty years has laid the foundation for a New American Majority consisting of progressive people of color (23 percent of all eligible voters) and progressive whites (28 percent of all eligible voters). These two groups make up 51 percent of all eligible voters in America right now, and that majority is growing larger every day. Failing to properly appreciate this reality, progressives are at risk of missing this moment in history--and losing. A leader in national politics for thirty years, Steve Phillips has had a front-row seat to these extraordinary political changes. A civil rights lawyer and a senior fellow at the Center for American Progress, Phillips draws on his extensive political experience to unveil exactly how people of color and progressive whites add up to a new majority, and what this means for U.S. politics and policy. A book brimming with urgency and hope, Brown Is the New White exposes how far behind the curve Democrats are in investing in communities of color--while illuminating a path forward to seize the opportunity created by the demographic revolution

New Press, 9781620971154, 224pp.
Publication Date: February 2, 2016
About the Author
Steve Phillips is a New York Times bestselling author, columnist, and leading national political thought leader. He is the author of the New York Times and Washington Post bestselling Brown Is the New White: How the Demographic Revolution Has Created a New American Majority as well as How We Win the Civil War (both from The New Press); he is also the founder of Democracy in Color, a political media organization dedicated to race, politics, and the multicultural progressive New American Majority. Phillips is the host of "Democracy in Color with Steve Phillips," a color-conscious podcast on politics. He is regular columnist for The Nation and The Guardian. He lives in San Francisco.