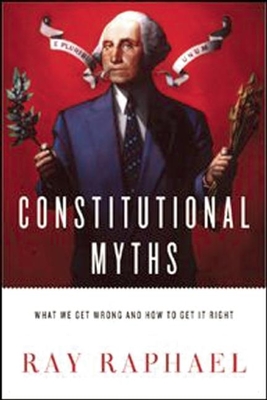 Constitutional Myths
What We Get Wrong and How to Get It Right
Paperback

* Individual store prices may vary.
Other Editions of This Title:
Hardcover (3/5/2013)
Description
Americans on both sides of the aisle love to reference the Constitution as the ultimate source of truth. But which truth? What did the framers really have in mind? In a book that author R.B. Bernstein calls "essential reading," acclaimed historian Ray Raphael places the Constitution in its historical context, dispensing little-known facts and debunking popular preconceived notions. For each myth, Raphael first notes the kernel of truth it represents, since most myths have some basis in fact. Then he presents a big "BUT"--the larger context that reveals what the myth distorts. What did the framers see as the true role of government? What did they think of taxes? At the Constitutional Convention, how did they mix principles with politics? Did James Madison really father the Constitution? Did the framers promote a Bill of Rights? Do the so-called Federalist Papers reveal the Constitution's inner meaning? An authoritative and entertaining book, which "should appeal equally to armchair historians and professionals in the field" (Booklist), Constitutional Myths reveals what our founding document really says and how we should apply it today.
New Press, 9781620971345, 336pp.
Publication Date: September 1, 2015
About the Author
Ray Raphael's seventeen books include "A People's History of the American Revolution," "The First American Revolution," "Founders," "Constitutional Myths," and "Founding Myths," all published by The New Press. He is currently a senior research fellow at Humboldt State University. He lives in Northern California, where he hikes and kayaks.